When you come to hospital for a day visit, you are known as an "outpatient".
You will usually see a specialist doctor and/or a range of other health professionals. You may also have an X-ray or other tests. In most cases, you'll be referred by your general practitioner (GP).
---
Making an appointment
To make an appointment with us:
Our booking centre will contact you to make an appointment via:

text message if you have a mobile phone
phone call to your home phone number
letter if you don't have a contact number.

Once you receive our communication, you are expected to call our booking centre to make an appointment.
You will then receive a letter with the appointment details at your home address; you will need to bring this letter with you to your appointment.
We will send you an appointment reminder via text message the day before your appointment.
---
When you arrive
We recommend you arrive at the outpatient clinic approximately 15 minutes before your appointment time.
When you arrive, you will need to use a check-in kiosk:
You will scan your appointment letter at the check-in kiosk and you will receive a ticket.
Your ticket includes your appointment number and the area where your appointment will be held.
If extra information is required, the ticket will ask you to proceed to concierge, while keeping your place in the queue.
After checking in, our patient queueing system shows you how to get to your waiting area and room for treatment, it's important to check the screen for your number.
If you need assistance checking in or finding the waiting area, our volunteers in blue uniforms will be happy to assist.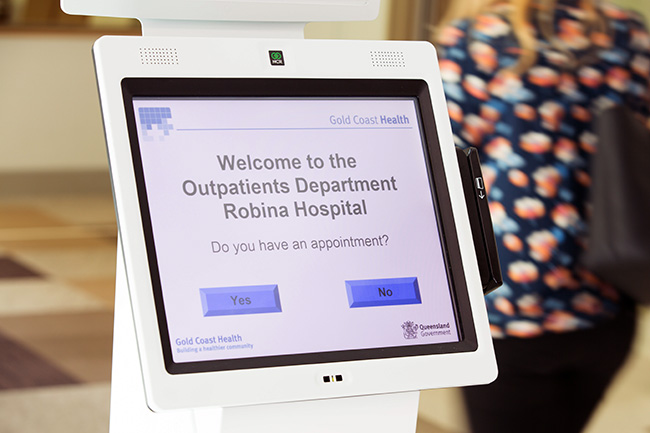 ---
Appointments
We recommend that you set aside at least two hours for your appointment. This may change depending on the clinic—please check with the clinic reception. Sometimes delays can occur. Be assured that appointments are individualised and patients are seen in order of their appointment times.
Usually there are multiple clinics running at the same time. For this reason, you may notice that other patients are called in ahead of you. This can occur because different clinics take different times to see patients.
If you need a medical certificate for work, please ask your doctor during your appointment.
---
After your appointment
At the end of your appointment, please ensure you check out at reception. If you require another appointment the receptionist will book your review appointment if required.
If your doctor decides you require surgery, you may be added to the elective surgery wait list. We will send you a letter  to confirm you are on the  elective surgery wait list.
It is important to for us to have your most up-to-date contact details. Please contact us on 1300 744 284 if any of your details have changed.
---
Outpatient Department FAQs
What do I need to bring to my appointment?
We will send you a letter confirming your appointment. This letter will include what documentation you will need to bring to your appointment.
Please bring the following with you to any Outpatient appointment:
your appointment letter
any relevant test results, medical reports or scans (X-rays, bone scans or ultrasounds) related to your treatment
a list of your current medications, including vitamins
your Medicare Card, Pension Card, or any other concession cards
your doctor's address and phone number (if you have changed your doctor recently)
something to read while you wait, in case there are delays.
Please present to the Outpatient clinic prior to your scheduled appointment time to ensure that you can be seen as quickly as possible.
What is an Outpatient Department?
Gold Coast Hospital and Health Service ('GCHHS') operates Gold Coast University Hospital ('GCUH') and Robina Hospital which are public health care facilities. These facilities operate specialist clinics which provide assessment and care for public patients by doctors and health care professionals who specialise in particular areas of medicine. These clinics are sometimes called "Outpatients".
Your doctor has referred you to our Outpatients Department as they have determined that your condition requires further assessment and treatment by one of our specialist doctors.
What is a referral?
Your doctor has the expertise to provide you with routine care, preventative care, and treatment for common illness. However, in some cases your doctor may be required to "refer" you to a specialist doctor for health care services which they are unable to provide.
In these situations, and with your consent, your doctor will send a summary of your condition and medical history, including any relevant testing and investigations completed, to a specialist doctor for review. This medical summary provided to a specialist doctor is known as a "referral".
The information provided within a referral will allow the specialist doctor to complete a preliminary assessment of your condition and determine whether the best course of action is for them to provide you with ongoing treatment and management for your referred condition.
You cannot access specialist Outpatient services without a valid referral from an approved referral source.
Will I have to pay for my Outpatient appointment?
If you are a public patient seeking treatment in Outpatients within a Gold Coast Health facility you do not have to pay for your appointment. Outpatient appointments offered at our facilities are free for all Australian citizens and most permanent residents. These costs are mainly paid for by The Queensland Department of Health (State Government funding) and Medicare (Federal Government funding).
However, if you are a private patient seeking treatment within one of our facilities it is likely that you will incur some costs associated with your care. You should speak with your Private Healthcare provider if this is the case.
Am I being referred to the hospital for a surgical procedure?
Your initial appointment with our outpatient department is not an appointment for a surgical procedure. At your first appointment one of our specialist doctors will meet with you to undertake an initial assessment of your referred condition and discuss with you a plan for the management of this condition moving forward.
When will I attend my initial appointment with the Outpatients department?
You require an appointment to be seen at one of our Outpatient clinics.
Once your referral is received it will be assessed by one of our specialist doctors to determine the timeframe within which you are required to be seen based on the urgency of your condition and the availability within the outpatient clinic which you will need to attend. Both you and your referring doctor will be advised of this assessment in writing once the assessment has been completed.
Once your referral has been assessed you will be placed on the Outpatient Waiting List. Our staff will then contact you to arrange an appointment for a date and time which is convenient for you. You may be contacted by phone, in writing, and/or via email to arrange this appointment and it is important that you reply to any request from our Outpatients Department within any timeframe requested or you may be removed from the waiting list.
What is the Outpatient Waiting List and how does it work?
There is a high level of demand from the Gold Coast community for outpatient services provided within Gold Coast Health. Although our Outpatients Department strives to see all of its referred patients as quickly as possible, it is likely that you will have to wait for a period of time before you are offered an appointment.
If this occurs you will be placed on the Outpatient Waiting List, which is essentially a list of all patients who are awaiting their initial appointment at one of our Outpatient clinics.
The length of time you will be required to wait before you are offered an outpatient appointment will depend on a number of factors, including but not limited to the following:
the referral provided by your doctor, including their assessment of the urgency of your condition
the initial assessment undertaken by one of our specialist doctors, which determines the timeframe within which you are required to be seen based on the urgency of your condition
how many people are already on the waiting list when you are added to the waiting list
the availability of our specialist doctors to treat patients with your condition.
What happens if my condition gets worse while I am waiting for an appointment?
If you are worried that your condition is getting worse you should advise your referring Health Practitioner (e.g. your GP) immediately. If your referring Health Practitioner has any concerns, they may contact the Outpatients Department on your behalf or be able to recommend changes which could improve your health while you are waiting for your appointment.
Can I be removed from the Outpatient Waiting List?
Given the high demand for its Outpatient services, we have a responsibility to ensure that the Outpatient Waiting List includes reference to all patients who both require care and are in a position to accept care. With this in mind, you may be removed from the waiting list if:
the Outpatients Department is unable to contact you to arrange your initial appointment
you decline the offer of an outpatient appointment without a valid reason
you fail to attend a scheduled appointment without providing prior notice to the Outpatient clinic
you do not respond to any request from the Outpatients Department to contact them in relation to any matter
you have confirmed that you have received treatment elsewhere or no longer require your appointment.
If you are removed from the waiting list you will require a new referral from your doctor and this has the potential to delay your care. Therefore, it is imperative that you advise the Outpatients Department immediately if there is any change to your contact details (e.g. address, contact number, email) or if any situation has arisen that may prevent you from attending an appointment (e.g. upcoming holiday). It is also very important that you attend all of your scheduled appointments or advise the Outpatient Department if you are unable to do so.
Please note that if you are removed from the waiting list both you and your doctor will be advised of this event in writing where the hospital has the ability to do so.
What do I do if I can no longer attend my appointment?
If your circumstances change and you are no longer able to attend a scheduled appointment you must advise the Outpatients Department as soon as possible by phoning 1300 559 083 or emailing AOPDApptsGCUH@health.qld.gov.au. This will allow the department to not only reschedule your appointment but also provide us with the opportunity to offer the appointment which you cannot attend to another patient.
Please be aware that, if you do not attend a scheduled appointment without providing adequate prior notice, you may be removed from the Outpatient Waiting List.
If you cannot keep your appointment:
in some cases, the appointment can be rebooked
you may be removed from the waiting list, transferring care to your general practitioner. You will need a new referral to access the waitlist.

What if my appointment is postponed?
Occasionally it may be necessary for the clinic to postpone your outpatient appointment. Our staff will contact you if your appointment is postponed. If this happens, you will keep your position on the waiting list and your appointment will be rescheduled as soon as possible.
Who do I contact for more information?
If you have any enquiries please contact the Outpatients Department on weekdays between 7:30am-5pm on 1300 559 083 or alternatively contact your referring Health Practitioner for further information.
The Outpatient appointment page contains further information on current waiting times for appointments.