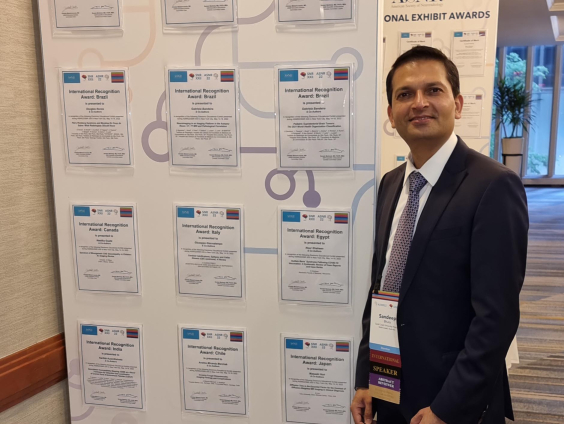 International recognition keeps coming for Neuroradiologist Professor Sandeep Bhuta, who collaborates with other clinicians to publish research papers and promotes education to advance clinical care of head and neck cancers.
Prof Bhuta recently returned from New York with an International Recognition Award from Symposium Neuroradiologicum (SNR) 2022, a neuroimaging conference which happens once every four years and was combined with American Society of Neuroradiology's (ASNR) annual conference.
More than 2000 delegates from 56 countries attended the conference, where three academic papers by Prof Bhuta were displayed alongside researchers from John Hopkins University, Mayo Clinic, Stanford University, and other leading research institutions. He also gave a faculty lecture on Trends in Head and Neck Oncology Over a Decade in Australasia.
Prof Bhuta's award was for an educational and research paper on Sino-nasal and Anterior Skull Base Tumours: Multidisciplinary Approach to Treatment.
"We see a lot of these cancers with anterior skull base involvement, and this was the motivation to work in this area so that our imaging and surgical approaches can be streamlined to have good surgical outcomes and help the patients," he said.
The scientific paper had valuable contributions from co-author Karen Huang, Radiology Registrar (now at Townsville Hospital and Health Service), Emily Guazzo, Head and Neck Surgeon, Gold Coast University Hospital.
"Getting an award on the world stage and getting recognised for the work we do here at Gold Coast University Hospital and through an affiliation with Griffith University made this trip worth it," Prof Bhuta said.
Throughout COVID Prof Bhuta, who is on two ASNR committees, attended symposiums virtually, getting up at 3am to present papers to a northern hemisphere audience. This was the first international event he has attended since the pandemic.
"This has definitely put our institute on the world map, and I had lot of enquires from junior doctors for training opportunities and sabbatical here."
Prof Bhuta, who is from our Department of Medical Imaging, is also Director of Research and MRI Supervisor and holds academic title with Griffith University's School of Medicine and Menzies Health Institute.
Gold Coast Health embraces research to drive the best possible care for our community. Through quality research and its translation to practice, we aim to empower our staff to work with our partners and consumers to continuously improve the care we deliver.
Earlier this year, Gold Coast University Hospital ranked in the top 250 global hospitals as part of the annual NewsWeek World's Best Hospitals survey.