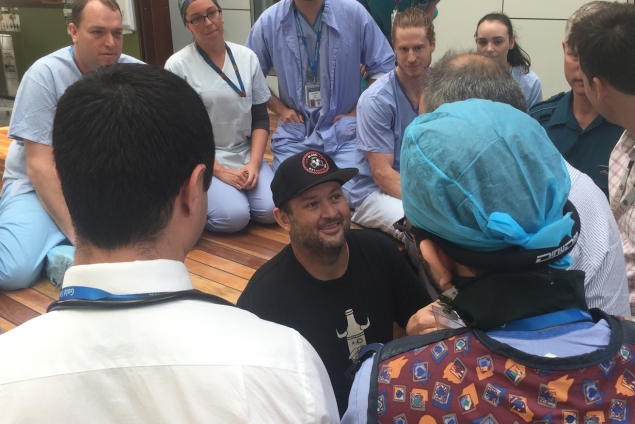 Earlier this year, our amazing team of doctors and nurses treated Gold Coast man Skye McLean, who cheated death following a post-surf heart attack. It was one of the everyday miracles that happen in our hospitals and all the staff involved in Skye's care were delighted at his recovery. The experience has impacted his sister Danielle, who wrote to us wanting to share her experience. With her permission, we've reproduced her story in full below.
7 days in an ICU waiting room and why you should love your hospital
Lately, I've been thinking about my brother's heart attack which happened in February 2017.
It's become where the thoughts and feelings come back to me at weird times and much too often. Obviously I think about how blessed we are to have my brother, but I also find myself thinking of the staff at hospitals, in particular the Intensive Care Unit (ICU) and of course the waiting rooms of these units.
Most people will have experienced being in an ICU waiting room or know someone that has and those of you that haven't, thank god above.
Not only is it such a sad environment but it's also highly emotionally charged and anxiety inducing. You discover a lot about people and how people deal with their all-encompassing grief and heartache. You see families or friends who haven't spoken in 30 years simmering in their seats, the air thick with resentment. The only thing bringing these people together is on the other side of two swinging doors and teetering on the edge of life and death.
In the ICU waiting room, you sit there all day, day after day, living on any piece of news like you're drowning and this is your rope. Everyone's eyes flicker to the swinging doors to see if it's their turn and then you see pure disappointment on people's faces. You see pure agony in parents eyes when they're told their child will not be going home. Not today. Not ever. You see fractious babies and sobbing men. You eat crap food from a food court that you won't remember eating and drink coffee by the bucket load.
Because basically living in the waiting room with others that have barely slept or eaten and are all dealing with their own heartbreak is like living with a group of overtired, hungry toddlers. You get outbursts and crying, silence and sighing, praying, laughing and of course the nervous "no news is good news" which everyone will no doubt, at one point blurt out.
I can say I was not the best version of myself and the feeling of not knowing, is paralysing in its ability to make people implode or explode. There is nothing to stop this. It's human. But you know that's ok too because everyone's different and walking their own path through grief. All will be forgiven because your inner monologues are all the same...please wake up, wake up, god please let them wake up.
It's the most overwhelming place I've ever been where you start to think (after your tenth coffee of the day) 'well if I collapse of shock, exhaustion or hell, even cardiac issues after this coffee, then I'm definitely in the right place'. You ARE definitely in the right place.
You see one of the reasons that I write this is my great respect and love for the courageous humans that work in these hospitals. I could also add our police force, fire brigade, ambulance and defence force but I'd like to recognize the ICU staff especially.
The way in which they treated my brother can only be described as heroic. Such compassion and humility. They answered a thousand questions each shift, explaining the beeping and buzzing of the machines so patiently and what everything meant. They spoke to my brother gently, gave him his dignity and treated him like I imagine they would their own family.
We are beyond happy and eternally grateful in that we got our fairytale ending and our loved one got to go home, but a lot of people don't get to go home or into rehabilitation and these beautiful people that work there would see pure grief every day, and yet they don't grow immune, they show compassion.
So next time you visit a hospital and I sincerely hope it's not the ICU, remember that yes these people are trained and of course paid, but for everything that they sacrifice and the fact that they save lives, well that's truly inspirational. You could never pay anyone enough for that - it's absolutely PRICELESS.
So please, always show respect to your hospitals and their staff.
(by Danielle Walker)