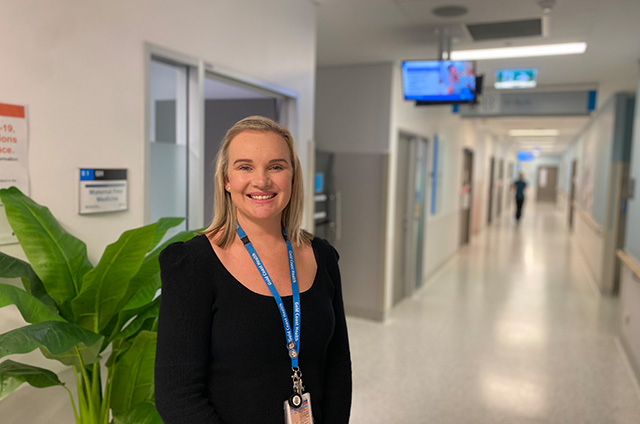 Sophie is a Midwifery Navigator who specialises in caring for pregnant women with complex medical diseases, high-risk obstetric complications or complex fetal anomalies requiring dedicated support.
"Last year, I supported 140 women throughout their pregnancies. This included women with chronic health conditions like type 1 diabetes, some who fell pregnant whilst receiving chemotherapy or others who were diagnosed with some form of cancer," said Sophie.
"My job is to coordinate care, appointments and implement multifaceted pregnancy management plans for women that use our service.
"I form a close relationship with these women, and I am here to provide guidance and streamline their hospital experience. We know that continuity is the best model of care you can have during your pregnancy journey, and we get amazing outcomes."
Sophie is also the clinical lead for Maternity Hospital in the Home (MHITH), a specialist home visiting service for eligible expectant mothers who need extra care, enabling them to remain in their homes instead of spending days or even weeks in hospital.
The service was introduced at the height of COVID-19 two years ago and it has continued to grow. Last year, MHITH was internationally recognised taking out the Maternity Health Round Table Maternity Innovation Award.
"More than 200 women have accessed the service to date, and we receive overwhelming patient satisfaction," said Sophie.
"The benefit is that women are provided quality care in the home without needing to come into hospital for routine blood tests, to monitor blood pressure weekly or change their medication. They are at home with their family and friends who continue to provide emotional support."
There is a rigorous assessment process for expectant mothers to be deemed eligible for the MHITH service.