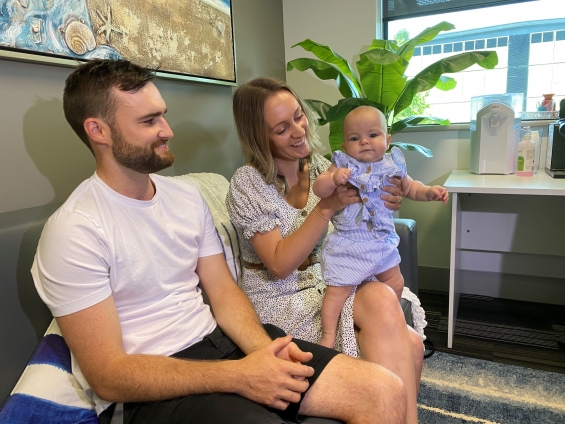 A new Gold Coast Health maternity service is allowing expectant mothers who need extra care to remain in their homes instead of spending days or even weeks in hospital.
In the Maternity Hospital in the Home model of care, midwives attend the homes of women with high risk pregnancies, who would typically be admitted to hospital, to do any testing or monitoring to ensure mum and bub are on track. Phone consultations are held with doctors as needed.
Jamie-Lee Martis was 28 weeks pregnant with baby Hadley when a scan revealed she had cervical incompetence and could go into early labour.
The diagnosis required her to be hospitalised almost immediately for daily monitoring, including blood pressure tests and cardiotocography (CTG) scans.
After five weeks in Gold Coast University Hospital, Jamie-Lee was able to access the MHITH service to receive the same care in her home for the remaining four weeks of her pregnancy.
"It was a massive relief for us to go home. While we were at home, we got to do things like set up the nursery, have the pram put together, the car seat installed and just enjoy those things," she said.
Jamie's husband Tyson owns a small business as was juggling full days of work with nightly visits.
"He was exhausted, so when we got home it meant he had a bit more time," Jamie-Lee said.
"I had mum with me working from home and I had friends pop over with gifts because I didn't get to have a baby shower. It was a really nice change for me."
Clinical Midwifery Consultant for Maternal Foetal Medicine and service lead Tionie Newth said while the initial aim of the project was about hospital avoidance during the uncertain early days of COVID-19, the satisfaction experienced by the mothers made the project a true success.
"There's quite a broad spectrum of conditions that may require daily monitoring," she said. "The woman is still a patient of the hospital but she is in a virtual ward rather than being in the hospital.
"We found that some of these women didn't need to be in hospital, they could be at home with the support of their family, their partners could go to work, they were with their children."
The program initially ran earlier this year for 13 weeks as a pilot and due to its success, recommenced last week with three midwives covering the seven-day service.
"If we don't have to have these women in hospital and we can provide that service in the home, that bed can be utilised by another woman who needs to be in hospital. It's a cheaper service to run and its more satisfying for the women as well," Tionie said.
• There is a rigorous assessment process for expectant mothers to be deemed eligible for this service.
• The service is available to mothers in the Gold Coast Health catchment area
• Women using this service will be readmitted to hospital if their care requires it.
• 50 women used the service through the 13-week pilot program.
• The MHITH service was recognised internationally receiving the Maternity Health Round Table Maternity Innovation Award.