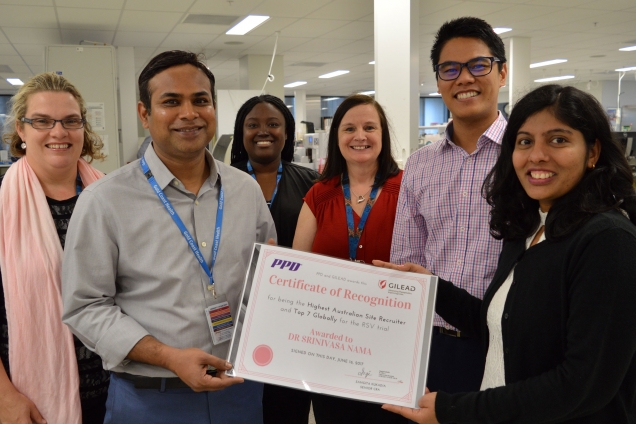 A Gold Coast Health Clinical Trials program has been recognised internationally for its role in a drug trial for patients suffering from the common yet untreatable Respiratory Syncytial Virus (RSV).
Clinical Trials Sponsor Gilead and Pharmaceutical Product Development have named Gold Coast Health as the Highest Site Recruiter in Australia and in the top seven sites globally.
The study, led by Internal Medicine Staff Specialist Dr Srinivasa Nama, is the first of its kind to provide patients suffering from RSV with the drug Presatovir to treat the respiratory virus - which can be life threatening to children and the elderly.
With the number of incidents of RSV comparable to influenza, the trial's outcome could have a significant impact on a patient's length of stay and the health system generally.
Dr Nama said the recognition helped to put Gold Coast Health on the map internationally for clinical trials. "This clinical research award raises the profile of clinical trials expertise and facilities at Gold Coast Health," Dr Nama said.
"We are now attracting attention from major research organisations for internationally collaborated trials. This is an achievement we can be very proud of."
The large team behind the trial includes Dr John Gerrard, Dr Shameen Beebeejaun, the DEMS Clinical Trials team and Pathology.