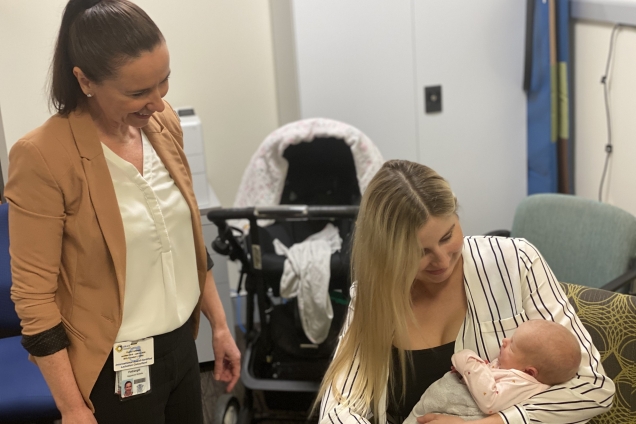 This World Breastfeeding Week, Cherie Fothergill wants new mothers to know there is support for them all year round.
Cherie is a lactation consultant (LC) with Gold Coast Health's Lactation Consultant Services. She is among a team of LCs who spend one-on-one time with mothers and their babies supporting and educating them on how to breastfeed.
"As a service at the hospital women are supported by midwives in the birthing suite with that first initial breastfeed," she said.
"Women then can sometimes have challenges with breastfeeding.
"Women are referred to us if there's more complex issues. So that's our role, giving that extra support that's needed, picking up on any problems that might arise.
"Breastfeeding is a natural thing but it's also a learned thing so it requires support and guidance."
Every woman is different and every baby is different which according to Cherie, means the challenges can also be unique for each family.
"Women can have challenges with different breast sizes and breast shapes. Babies can have challenges with establishing breastfeeding and learning at the breast. It's very much a learned thing," she said.
Cherie says its common in the first days and weeks for mums and bubs to struggle with breastfeeding, especially first-time mothers.
"Latch is just so important, baby being able to get on to the breast effectively is so important for helping and establishing breastfeeding," she said.
"We have a very good success rate because of all of the support that is provided."
New mum Shannon Barber said she didn't realise how difficult breastfeeding could be until she gave birth to daughter Charlie.
Shannon and Charlie have been meeting with Cherie at the Varsity Lakes Lactation Clinic for support and are now going strong after a challenging start.
"They say it takes up to six weeks, it's definitely taken a few weeks," she said.
"(It was great) just to have someone to call or somewhere to drop in when we were having problems."
This free postnatal service is available for mothers who have given birth with Gold Coast Health and Hospital Services. Mothers needing extra support with breastfeeding can be referred to the Lactation Service by a midwife or can make an appointment with the community clinics at Gold Coast University Hospital, Varsity Lakes, Nerang and Coomera.

External Link
https://www.goldcoast.health.qld.gov.au/our-services/maternity/after-you-have-your-baby