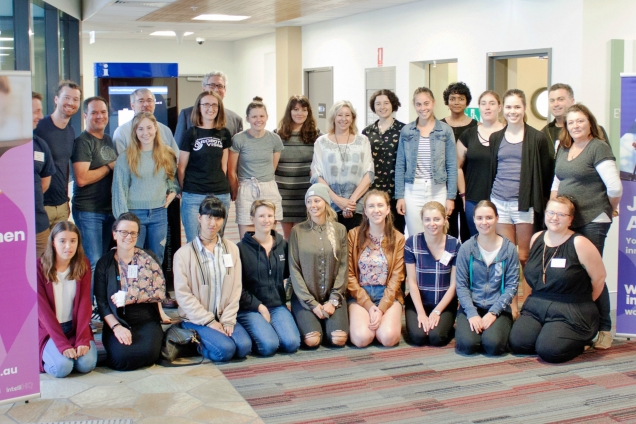 Young women looking to get an edge in technology attended a three-day Artificial Intelligence (AI) camp at Gold Coast University Hospital last weekend.
The camp is the first in a series to come for the Young Women Leaders in AI program which aims to foster more women leaders in the growing field of healthcare innovation, which is a major focus for Gold Coast Health.
Developed by IntelliHQ in partnership with AIkademi, the program was made possible with funding from the Federal Government's Women in STEM and Entrepreneurship (WISE) grant program which tackles the national challenge of how to attract women to Science, Technology, Engineering and Mathematics (STEM) careers.
IntelliHQ is a partnership between Gold Coast Health, industry and universities to transform healthcare through AI, enhance patient outcomes and improve quality of care.
Co-founder and Gold Coast Health Medical Director of Innovation Dr Brent Richards said women had a crucial role to play in transforming the way hospitals deliver healthcare.
"It was fantastic to meet some of the current and emerging AI leaders, and hear about their journey so we can support the next generations with their careers," Dr Richards said.
"While men tend to get into AI for the tech, women tend to be more invested in the outcome, so it's fascinating to watch the different elements each bring to the industry.
"It's really exciting to help to nurture emerging AI leaders right here at Gold Coast University Hospital, where we like to think we're pretty tech savvy."
Dr Richards said AI suffers from a lack of diversity, which can result in potential biases and less-than-optimal outcomes.
"That's why initiatives that help redress this such as the WISE grant are so important."
Among the industry speakers at the event was full-time science speaker and maths teacher Emily Grossman. Emily is best known for her talks on BBC Radio, YouTube and TEDx.
One of the key topics discussed at the camp was the common theme of 'Imposter Syndrome' experienced by women in traditionally male-dominated fields.
"There a lot of days I myself deal with this, then there are other days when I feel brilliant," Emily said.
"Over time I've really learnt not to let someone tell me there's something I can't do, but rather only stop when it's not something I want to be doing anymore."
"It's really important to be able to ask for support…we can't do this alone."
Emily added, she believed authenticity in the workplace was a core tool for helping people get the best out of themselves.
"If we can allow ourselves to be who we are moment by moment, then we have much more access to so many more parts of ourselves that we can bring not just to our personal lives but to the workplace as well," she said.
"People will get behind a leader or someone that is authentic, transparent and vulnerable. With that vulnerability we can then get better at doing our job especially when it comes to being empathic and creative."
When asked why young women should get involved in AI, Emily said you don't have to fit a stereotypical mould of what it is to be a scientist.
"You can be science and technology minded in many different ways," she said.
"Together we can be stronger by simply talking and creating environments like this camp where people can come together is a brilliant way to promote those conversations."
You can read more about how Gold Coast Health is empowering young women to play a crucial role in AI in this story.