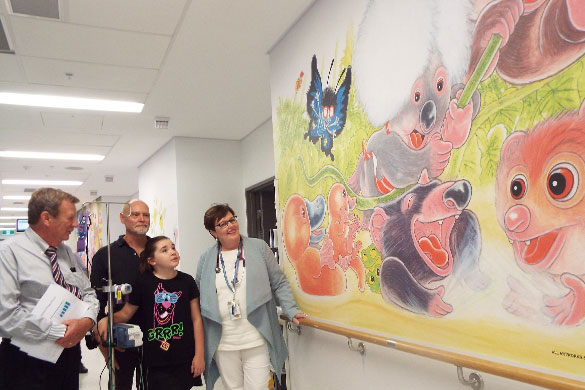 A makeover of the Gold Coast University Hospital inpatient children's ward is lifting the spirits of patients and their families thanks to a local artist and his vibrant Australiana wildlife images.
Albert Koala, George Goanna and a host of turtles, penguins and friendly whales have been installed on 16 walls throughout the unit putting the 'finishing touches' to the unit three years after it opened.
Wednesday 28 September marks the third anniversary of the opening of Gold Coast University Hospital.
Gold Coast Health Director of Paediatrics Dr Susan Moloney said the mischievous characters were taken from illustrations created by artist Simon McLean for his popular series of Australian stories published under the banner of 'Albert & Friends'.
"This wall art not only makes the unit more child appropriate, but helps families navigate their way through the corridors of new and unfamiliar surroundings.
"Some people find it hard to see where the exit is, so now we have some friendly penguins who show you the way out."
Artist Simon McLean said the illustrations highlight, in characterised form, Australia's wondrous wildlife and subtly reflect the land and water environments of the Gold Coast.
"It's been a real delight to work with Dr Moloney and the associated heads of staff involved, and to be a part of their determined efforts to make their patients' stays at the hospital as positive as can be," Mr McLean said.
Mr McLean has illustrated and co-authored eight books in this classic series of Australian children's books, and his artworks and illustrations are well represented in art galleries and publications throughout Australia.
The wildlife wall art project was community funded through donations to the now defunct Gold Coast Hospital Trust Fund, which has been replaced by the public benevolent institution Gold Coast Hospital Foundation.