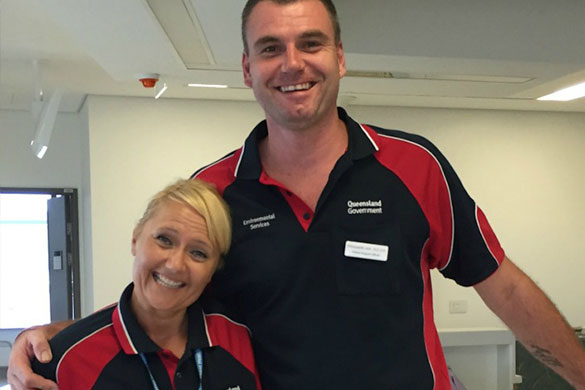 Gold Coast Bulletin reporter Emily MacDonald took a glimpse into a day in the life of a hospital wardie at Gold Coast University Hospital.
Fast on his feet when the team needs him and taking dribble in his stride – becoming a wardie wasn't as big a transition for former professional basketballer Scott McGregor as he'd feared.
When his 14-year-career playing for teams including the Sydney Kings and Gold Coast Blaze was over the Varsity Lakes father of two wasn't sure how he'd bounce back.
That was until he found himself among 30 people each week who put their resumes into Gold Coast University Hospital planning to push beds but end up changing lives.
He spends his days in the orthopaedic ward where shark attack victims are brought back from the brink and patients recovering from car crashes and hip replacements get back on their feet.
"I was working as a courier driver and to be honest I was a bit lost," Mr McGregor said.
"A normal day is trying to get the patients out of bed to exercise and assisting the nurses with showers and hoists.
"For some of these people they might not get any visitors at all. For me to spend five minutes of my time talking to them it gives them that home there's light at the end of the tunnel and they're going to heal."
Wardsmen are among 500 environmental services officers including theatre technicians, gardeners and cleaners who are the backbone of the Gold Coast University Hospital.
Another of their number is Michelle Williams of Varsity Lakes who was once a sought-after hairstylist in London but has been a wardie for the past two years.
Just like when she was backstage at fashion shows, there's plenty of bright lights and drama in the emergency department.
"You see some awful things but some amazing things too. These little babies can be so sick but they will give you this big smile," Mrs Williams said.
"Especially the little ones and the oldies I can see the fear in their eyes when they come in.
"It's tough for a lot of people and they just want someone to hold their hand.
"It's not part of my job to do any of that but you do it because you care."
John Smallshaw is a veteran wardsmen of 16 years, currently based in the Intensive Care Unit.
The Lower Beechmont resident came to the job after managing primates in university research facilities where in most cases the aim was to find cures for many of the afflictions he sees today.
Like many of the wardies he volunteered to be trained in Basic Life Support which means on dozens of occasions he has been the closest person at hand to deliver crucial CPR. But that's not the only way Mr Smallshaw is saving lives.
After seeing firsthand the need for blood products he signed up with the Red Cross and has racked up more than 100 plasma donations.
"I've got good veins," he explains flexing his fingers.
"I'm not the only one who's been here for a while. Sometimes between the three of us on shift in my unit there'll be 40-plus years' experience between us.
"The part I like best is on any given day seeing the people who were really sick and knowing they'll go home.
"That's a huge sense of satisfaction."