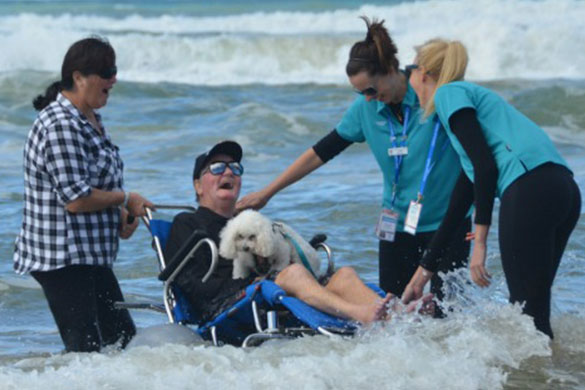 This wheelchair is [symbolic] of the reason why we get into this kind of job – to help people."
That's Gold Coast Health Community Palliative Care Team Leader Julie-Ann Hendry telling the rest of Australia about the initiative that is set to bring joy to hundreds of the city's terminally ill patients.
National broadcaster SBS has written a touching story about how winning a Special Ministerial Award at Gold Coast Health's recent Improvers staff innovation competition has allowed the Community Palliative Care team to purchase four beach wheelchairs that will enable terminally ill patients to once again enjoy one of the city's greatest assets.
Tony Lambert, who has motor neurone disease, was the first patient to get back in the water last week.
"This has meant so much to me," he told SBS. "I've had my swimmers ready for weeks.
"Just being down here, to smell the beach, feel the sand, is great. It means we can be a family again, being together [at the beach] instead of all spread out."
Gold Coast Health's Community Palliative Care team supports more than 1000 patients each year.
To read the full SBS story, visit http://bit.ly/28JpGwa