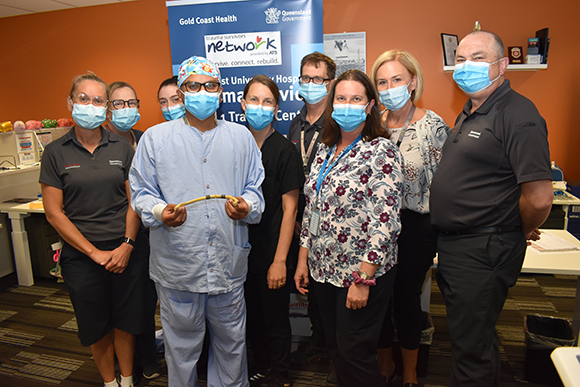 As a sign of our trauma team's world standing, Gold Coast University Hospital (GCUH) has just become the first Chest Wall Injury Society Collaborative Centre in Australia.
Trauma Surgeon Bhavik Patel was instrumental in pushing for GCUH to be recognised as a collaborative centre for chest wall injury, a condition that affects up to 30 per cent of trauma patients admitted through the Emergency Department (ED).
"Our hospital has developed a new pathway for managing rib fixation for people with displaced rib fractures, which has been endorsed by the Chest Wall Injury Society. We've already been using this new pathway for the past five years," Bhavik said.
"It's a combination of new surgical techniques that have evolved and we've been quite involved in research in this area. The Chest Wall Injury Society is an American association, and this is a formal collaboration agreement with them, whereas previously it was more informal."
As a collaborative centre, GCUH is a central contact for other Hospital and Health Services in Australia and worldwide, looking for information, research and advice on chest wall injury best practice.
"It is recognition of our commitment to improved patient care and innovation in our clinical approach to chest wall injuries," Bhavik said.
"Ten years ago, it was unusual for trauma patients to get their ribs fixed; it was often the last resort. We've actually flipped this so that when a patient comes to the ED with rib fractures, we might do an early rib fixation as a way of managing them. This is helping to significantly reduce the amount of time they stay in the Intensive Care Unit, as well as complications and pain."