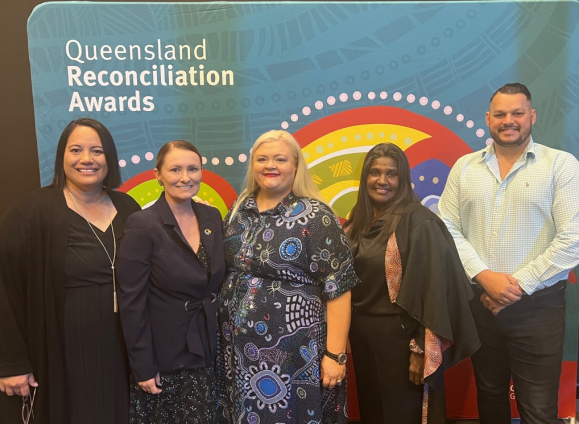 Gold Coast Health has won the Queensland Reconciliation Award for Health and Wellbeing as well as the prestigious Premier's Reconciliation award for the Waijungbah Jarjums Service for Maternal and Child Health.
An Australian first, Waijungbah Jarjums means 'place of mother and children' in traditional Yugambeh language and is a co-designed maternity and child health service at Gold Coast Health.
Identified Clinical Nurse Consultant and Manager of Waijungbah Jarjums Nicole Tukana said the service impacts reconciliation because it acknowledges Aboriginal and Torres Strait Islander peoples as the First Peoples of this land and addresses the health status disparities and a significant lack of trust in the health care system.
"The service delivers women-centred, culturally safe, quality care to Aboriginal and/or Torres Strait Islander families," said Nicole.
"It was established in consultation with the community and developed to provide maternity care for First Nations women and their families by First Nations Health providers.
"In the past year, Waijungbah Jarjums has expanded to provide child health and safety support until the baby is five years old," said Nicole
Waijungbah Jarjums has expanded from 10 Identified staff members to 30 Aboriginal and Torres Strait Islander midwives, student midwives, nurses, health workers, social workers and administrative staff.
"The service works hard to provide visionary, strong support frameworks for the staff to develop in their roles to ensure sustainability.
"Mob caring for Mob increases job satisfaction as they work together to care for their community."
"Waijungbah Jarjums has been extremely successful in improving health outcomes to close the gap as we work hard together to provide care that meets needs of the women and their families," said Nicole.