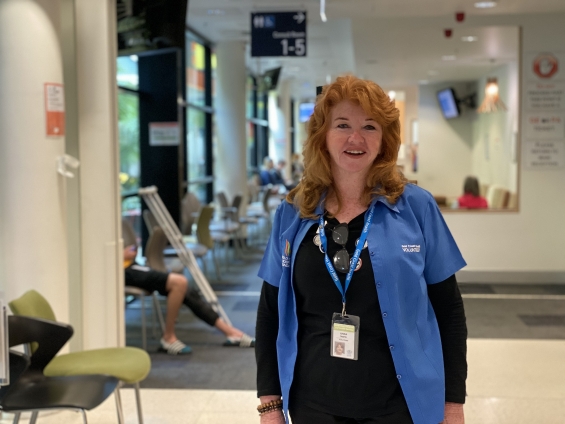 Linda Searle decided to take up volunteering at Robina Hospital three years ago after seeing the health service care for her late husband.
"My husband, who unfortunately has now passed away, came here to have a knee replacement and he was here for over three weeks. I was here every single day and I was just blown away by the nursing staff, the doctors, the care was just first rate," Linda said.
"And then I finished work and I just wanted to give something back."
Linda loves the companionship shared with other volunteers and is glad to be back to help patients and staff after Gold Coast Health volunteers were stood down in March due to COVID-19.
"You know that if someone has got a loved one in hospital they are going to be stressed. It's nice to diffuse the situation, wrap them up in a bit of a cocoon and get them to where they need to be," Linda said.
"And it does make you feel good and they are very thankful."
Even after seven years of volunteering for at Gold Coast University Hospital, the novelty hasn't worn off for Lee Thompson.
"It always feels good after every shift," she said.
Lee loves helping people and can see the difference it makes to patients and staff – but it has given her more than that."It's the comradery," she said.
"I have met many people and made great friendships
"Volunteering is such a rewarding thing."
Gold Coast Health Volunteers Manager Dale Tatterson says the service is always looking for volunteers.
"The volunteers are loving being back and they have received an amazing and grateful reception from staff and patients," she said.
"Volunteering in our health service is just a wonderful thing for our community to do, it's a way of giving back to the health service
"Volunteers can take on various roles from helping patients understand how to use hospital technology to helping people find their way.
To become a volunteer at Gold Coast Health or for more information visit https://www.goldcoast.health.qld.gov.au/get-involved/volunteering.
External Link
https://www.goldcoast.health.qld.gov.au/get-involved/volunteering.