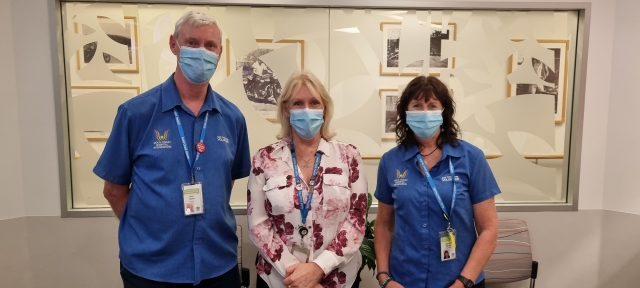 Our volunteer workforce is starting to increase in numbers again, in the wake of the recent pandemic wave.
Volunteer applications steeply declined during the pandemic, according to Volunteers Manager Dale Tatterson.
"Access to our facilities was restricted, so people stayed away," Dale said.
"With restrictions easing or ending, we are recruiting to fill vacancies (https://www.goldcoast.health.qld.gov.au/get-involved/volunteering) and re-instate some of our programs that were suspended when COVID started."
Dale said the volunteer workforce was a crucial part of the health service and she was proud of how the volunteers had adapted well through the pandemic.
"They have worn masks and have accepted all the challenges that this pandemic has thrown at us.
"They are so resilient and enthusiastic to assist in any way they can," Dale said.
It's National Volunteers Week (16-22 May) and the theme this year is 'better together'. It's a good time to recognise the vital work of volunteers and to say 'thank you'. Find out more at the Volunteering Australia (https://www.volunteeringaustralia.org/#/) website.