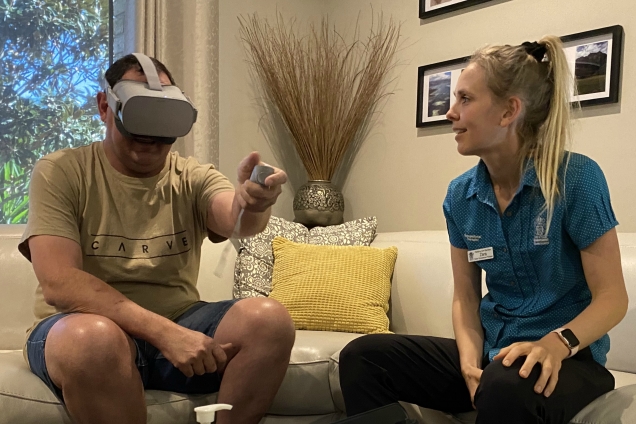 In a first for palliative care on the Gold Coast, virtual reality simulations are empowering patients to tick off some of their bucket list items from the comfort of home.
Occupational Therapists (OTs) successfully lobbied for funding to deliver their virtual reality therapy vision under Gold Coast Health's 'The Improvers' innovation program.
Project Lead Zara Hoskinson is one of the OTs who provide a vital role in improving the quality of life to Gold Coast Health patients facing life-limiting conditions.
"As individuals enter their journey towards end if life, it can become challenging for them to adjust to the loss of self-identified roles and function," Zara said.
"When we bring the virtual reality headset to patients during home visits, they can choose any number of virtual experiences from an App. This could be fishing, walking through a forest or an adrenalin-based activity. All they need to do is put the headset on and enjoy the experience."
"This is a way we can offer patients fulfilment when they are physically unable to experience these things anymore. Our aim is not only to improve the quality of life for patients - we know it can also assist with minimising carer burnout."
Access to the simulation therapy has been a welcome option for palliative patient Geoffrey Davey and his family. Geoff's wife Fiona says her husband's ability to be transported beyond his current physical restrictions becomes more vital as his illness progresses.
"When a disease diagnosis comes in an instant and in a short period of time, you don't always get the chance to create a 'bucket list' or complete life goals," Fiona said.
"The ability to immerse into greater parts of the world and feel a physical connection helps build Geoff's mental stamina, as well as his overall sense of wellbeing."
Fiona says the virtual reality therapy comes in addition to the significant palliative care support network that has overseen Geoff's care since July 2019.
"The team environment of care is extensive and so very appreciated. Our palliative care experience so far, has been exceptional."
Executive Director for Diagnostic and Sub-Speciality Services Karlene Willcocks said the virtual therapy was a wonderful example of the Palliative Care Service innovating to deliver patient-centred care.
"Our dedicated staff are continually striving to improve the end of life journey for patients and I'm just so proud to see the team's simulated care vision become a reality," Karlene said.