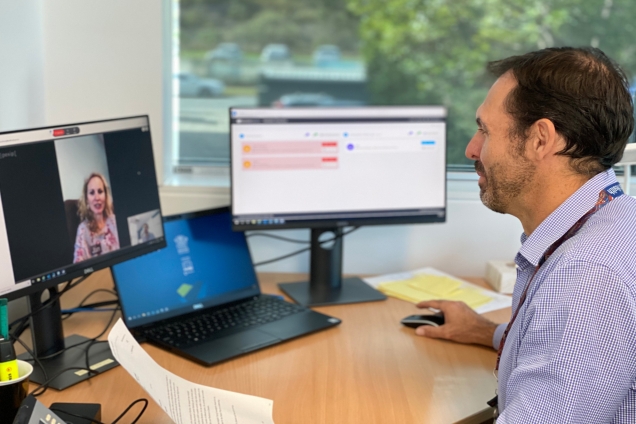 Online patient waiting rooms are making a big difference for a growing number of Gold Coast Health patients using virtual consultations to help manage their persistent pain. At least one in five Australians live with persistent pain each day
The 'Virtual Clinics' improve the online consultation experience for both patients and the medical teams overseeing their care by allowing patients to wait for their Telehealth video conference appointment in the comfort of their home.
Persistent Pain Centre Acting Team Leader Darren Doherty, said the addition of virtual waiting rooms to Telehealth consultations improved on what had already proven to be a highly successful way of delivering care to patients needing pain management support.
"We first used Telehealth consultations in 2014 for rural patients. By opening up this service to Gold Coasters, local patients can come to the centre virtually and see our specialists, allied health team and nurses, and get the care they need," he said.
"Our team have held 700 Telehealth consultations since the pandemic began, so COVID-19 has given us a unique opportunity to use the platform more broadly for our local consumers."
Darren said the technology supported the pain team's efforts to improve patients' quality of life.
"Not only have we been able to continue accessibility to care during the pandemic but many of our patients have different co-morbidities that are affecting their pain experience, and we can take a really holistic approach."
"We can see the patient within their environment, watch them doing everyday tasks and help them achieve the goals that they need to get through the day with their pain."
Gold Coast Health Telehealth Program Manager Priyanka Mishra said Virtual Clinics had an important role to play in supporting patient flow and patient-centred care.
"The technology is so advanced that all patients need is a smartphone. The clinician can see the patient in the virtual waiting room and transfer them to the virtual consult room," Priyanka said.
"The appointment process is largely the same but if a clinician is running late, the patient will get a message and be told when to connect later, as opposed to sitting in a clinic waiting room."
Priyanka said the power of Telehealth could be seen in its broad use across many modalities within the health service.
"Our Diabetes service started using Telehealth in 2015, and was doing around ten consults a month," she said.
"Now 31 services are using the platform and there are over 1K Telehealth activities a month."