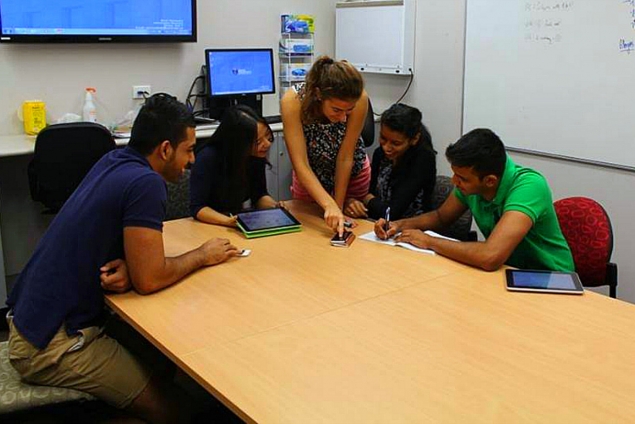 Bond University medical students at Robina Hospital are taking part in an innovative "virtual hospital" as part of an integrated healthcare simulation program.
The virtual hospital is a downloadable app that provides students with a real insight into hospital life through 'patient-based' case learning. Using this information students are able to participate in the clinical care of patients and practise clinical communication skills such as handover.
Bond University Professor of Emergency Medicine and Director of Simulation, Dr Victoria Brazil, also a senior emergency physician with Gold Coast Health, said the hybrid simulation program created realistic situations to allow students to build their confidence in a hospital environment.
"The aim is to recreate patient care situations, where students not only learn how to apply their knowledge but also gain a better understanding of how to effectively communicate with a patient and work as part of a medical team," she said.
"It also allows us to focus on key issues in care like patient safety, clinical handover and reflective practice, and working within Gold Coast Health's tertiary facilities is additionally beneficial for students.
"Bond introduces this type of teaching in the third year, which means students have almost two years of simulated patient care by the time they step into a real hospital for the practical component of their degree, which gives them a great advantage and ensures they are work ready."
Through the virtual hospital app and simulated care, students face a range of medical challenges, including everything from a heart attack, serious trauma, surgery preparation, mental health and children's health issues, so they become well versed in working with people of all ages in a variety of circumstances.
Bond virtual hospital lead and Assistant Professor Nemat Alsaba said patients respond best to a calm and confident doctor or nurse, so the focus was not only on the medical treatment but also the students' bedside manner and how they handled any unexpected scenarios.
"It also teaches clinical reasoning and encourages them to choose investigations wisely," Nemat said.
"We continue these simulations with fourth and fifth-year medical students to complement the experience they are gaining in a hospital environment and to provide more challenging situations as they advance towards the end of their degree and employment."
More confident junior doctors, better-prepared for real life situations, create a better and safer environment for our patients.