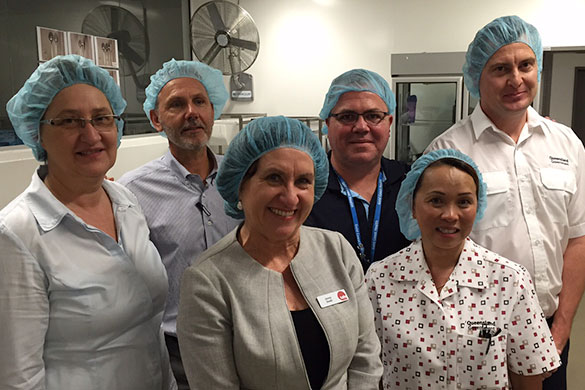 Philip Hoy is set to become one of the first Gold Coasters to receive an unexpected career boost thanks to a unique partnership between two of the city's biggest players.
Gold Coast Health and TAFE Queensland Gold Coast have joined forces to enable their respective staff and students to access educational and vocational opportunities at the other organisation.
Examples include Gold Coast Health workers participating in specially convened TAFE Queensland courses and students completing work experience in their relevant fields at the city's hospitals.
Gold Coast Health Executive Director People, Systems and Performance Damian Green said the union with TAFE would provide long-term benefits to both employees and the health service.
"As the city's largest employer, we see it as our responsibility to create an environment where our people are constantly being given opportunities to better themselves," he said.
"This is particularly the case for many of our Operational Services staff, who can find it difficult to access educational and career development pathways due to time and financial restraints, as well as a lack of appropriate courses.
"This partnership means we are now able to offer tailor-made programs for our staff that will not only bolster their skills but ensure we continue to develop a motivated and capable workforce."
Mr Hoy, who works as a kitchen-hand at Gold Coast University Hospital, is one of about 30 Food Services staff chosen to attend the first of TAFE Queensland's specially designed courses, a three-month Emerging Leaders program.
"Being invited to participate in this program has been a real morale-booster and is a reminder for my colleagues of the opportunities that are available to improve our skills," he said.
TAFE Queensland Gold Coast General Manager Jenny Dodd said the organisation was incredibly pleased with the new partnership which is an investment into the local health sector.
"We are honoured to be an integral part of the Gold Coast's growing health industry by providing further education and skills to the workforce, which is essential to not only the industry's development but also the local economy," she said.
"Our students also benefit from the collaborative program by having the opportunity to obtain a first-hand understanding of their chosen careers in a real-life environment which ensures they have a well-rounded education upon graduation."
The partnership between the organisations forms part of the Gold Coast Health Diversity and Inclusion Strategy, which was launched at Gold Coast University Hospital today and will help create more opportunities for people from diverse and disadvantaged backgrounds to join the health service.