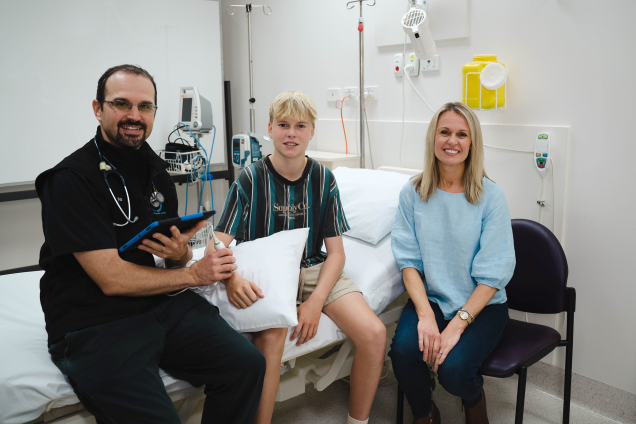 Gold Coast Health Paediatric Emergency Physician Dr Peter Snelling has proven ultrasound as a tool for screening distal forearm fractures in children, reducing ED wait times and significantly reducing the number of x-rays required.
Dr Snelling's research, published in the prestigious New England Journal of Medicine in June, comes out of a randomised controlled trial run by Dr Snelling at four South East Queensland emergency departments, including Gold Coast University Hospital and Robina Hospital.
"This is a proof of concept that could have global implication and application and is something that can be used here and now in current settings," Dr Snelling said.
The trial compared X-rays against ultrasound when assessing children suffering from distal forearm injuries to diagnose any fractures.
Nurse practitioners, physiotherapists, and emergency physicians at four South East Queensland Hospitals treated 270 children aged between 5 and 15 years with a suspected distal forearm fracture.
"If the patient had an ultrasound, we could determine whether they had a fracture that required follow-up in clinic or whether they could be managed conservatively," Dr Snelling said.
"In particular, children frequently sustain buckle fractures or a soft-tissue injuries, both of which can be managed with a splint or bandage and don't require any follow-up."
If a crack in the bone was detected with ultrasound, the child was sent for an X-Ray before being referred to a fracture clinic.
The study found that four-weeks post presentation, there was no difference in the physical function of the arm for those children sent to an x-ray compared to those that were screened using ultrasound.
There was a 2/3 reduction in the number of x-rays required for children that were screened with an ultrasound machine and a shorter stay in the emergency department.
"We didn't miss any important fractures and saw no adverse outcomes. This procedure is safe, feasible and noninferior in this group of kids," Dr Snelling said.
"In this trial we added one step, a bedside ultrasound scan, and we could send patients home immediately as a result of that scan, but if they needed an x-ray, we did not cause a longer stay in the emergency department."
"It's something that can be applied in any ED and potentially in general practice clinics, sports medicine clinics, or in any prehospital setting."
The process can be applied by nurse practitioners, physiotherapists and potentially other health professionals, which means that it could be a game-changer for remote and rural hospitals where access to x-rays is limited. Dr Snelling sees numerous applications for his research, from remote areas to local sports fields and resource-limited countries.
"There are so many ways this could be applied," he said. "You could train a rural nurse to scan patients who come through the ED and then make the decision as to whether the patient needs to travel a long distance for an x-ray. It could be quite relevant in that setting," Dr Snelling said.
"You can even do do the assessment with an electronic tablet or smart phone connected to a probe. There are a variety of machines."
Gold Coast Health Chief Executive, Ron Calvert, said Dr Snelling's work was an example of world-class research coming from the Gold Coast Hospital and Health Service.
"Our researchers publish many scientific papers each year taking on all the pressing issues in health care and investigating how we can improve not only our own services but services globally," he said.
"Peter is a fantastic example of this and his work proving the utility of ultrasound for the assessment and diagnosis of fractures has many applications for improving emergency care in all types of settings."
The research was funded through grants from the Emergency Medicine Foundation, Wishlist Sunshine Coast Hospital Foundation, Queensland Advancing Clinical Research Fellowships and the Gold Coast Health Study Education and Research Trust Fund.
The paper 'Ultrasonography or radiography for suspected paediatric distal forearm fractures' has been published in the New England Journal of Medicine.
Dr Snelling authored the paper as part of his PhD with Griffith University.