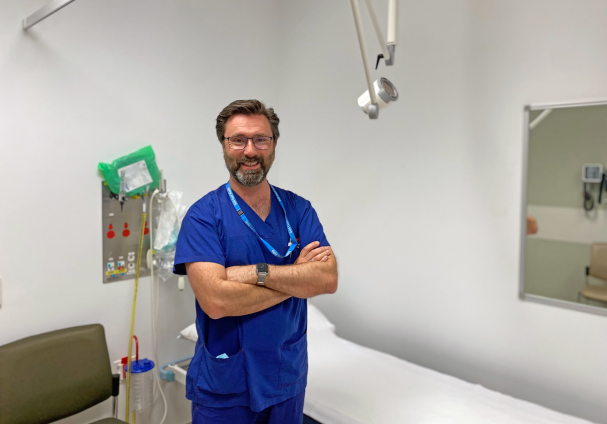 Dr Dimitrios Nikolarakos and his team of six specialists work in the second busiest Maxillofacial department in Queensland. As a specialist Oral and Maxillofacial, Head & Neck and Reconstructive Surgeon, he performs some of the most challenging and complicated surgeries.
Dr Nikolarakos has been a surgeon for 16 years, ten of which have been with Gold Coast Health.
His department has three surgeons dedicated to head and neck cancer and the associated reconstructive surgery, whilst the other three specialists cover facial deformity surgery, conditions of the face and jaws and facial trauma – often the result of interpersonal violence or motor vehicle accidents.
"My role has always been very much centred around the head and neck cancer surgery service, and that's where most of my focus lies," said Dimitrios.
"It's been my passion. It felt like it was the most challenging aspect of surgery that I could take on and that has a professional satisfaction, as well as contributing back to society by supporting cancer patients."
Dr Nikolarakos said there were two aspects as to why he's so passionate about his work.
"There's the technical aspect, and that is the challenge of treating the extremes - patients with very difficult problems that require extensive and very complicated surgery. Secondly, you get the opportunity to help people in one of the most difficult times in their life. Whilst this is very routine for us, for cancer of facial trauma patients, this is potentially the biggest challenge they'll ever face."