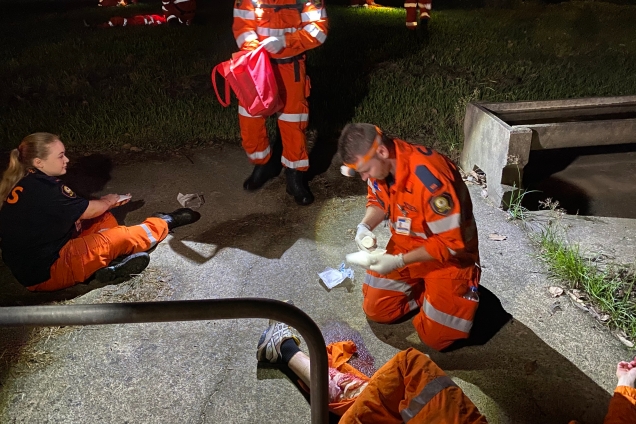 It was a case of role reversal for a group of Gold Coast Health staff who volunteered to be patients in the Trauma Service's first mass casualty simulation with local volunteer emergency responders earlier this week.
In scenes not unlike a movie set, Gold Coast University Hospital's Trauma Service and Simulation Teams coordinated the joint training exercise for the Mudgeeraba, Gilston and Numinbah Rural Fire Service and the Carrara SES at Mudgeeraba Showgrounds.
Doctors, nurses and medical students were among the 'patients' who were given life-like injuries by the Clare Scott and Jack Matulich from the simulation team before taking their positions under trees, on banks, and in scrubland around the showgrounds ready for the simulation go-live.
The exercise involving 12 GCUH Staff, 4 Medical Students and some 50+ Emergency Service and volunteers, allowed crews to practice incident control management and apply their first aid skills in multi casualty scenarios where there were a range of injuries to respond to and manage.
Trauma Service Nurse Navigator Matt Scott said there was plenty of action with three scenarios running at the same time.
"We had two scenarios where Rural Fire Service trucks were involved in collisions with trees and other vehicles. A number of patients were ejected and sustained burns, fractures and bleeding wounds," Matt said.
"In the third scenario, an SES flood boat impacted a bank at high speed and again those passengers were ejected and needed care for serious injuries."
Matt said it was a fantastic opportunity for learning, working together and networking for the RFS, SES and Gold Coast Health staff.
"The input of GCUH's trained professionals was invaluable, particularly during the de-brief," he said.
"The exercise and debrief was led by Trauma Service Deputy Director Dr Don Campbell, Trauma Service Nurse Navigator Matt Scott and our State-wide Trauma Coordinator Michelle Jeffress, ensuring everyone got most from the exercise.
"It was also valuable for hospital staff to see the world as a patient and I know sharing their experience and knowledge with the local brigade members was rewarding for them as well."
Matt added the event was only made possible by Gold Coast Health staff who stepped up to volunteer.
"This was really an opportunity for our staff to give back to our local crews after what has been a pretty difficult past few months for all our local emergency response crews," he said.
"I congratulate the volunteers who came outside of work hours to give their time and expertise in simulation and emergency health care to our community."