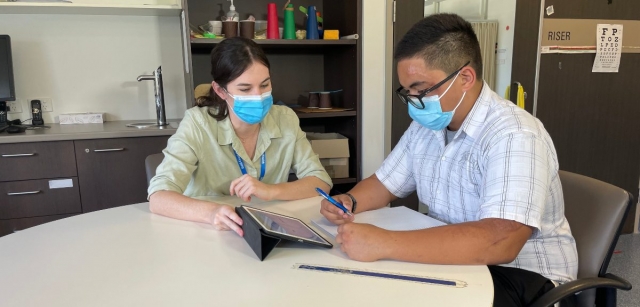 More than 350 hours of care under Gold Coast Health's Community Rehabilitation Program has helped two young men with major brain traumas get back on their feet.
25-year-old Jake Perry was living in the UK when he was seriously assaulted in July 2020. 17-year-old Damien-Prem (Prem) Amwano sustained his injuries in a fall from a vehicle while living in Nauru in April 2021.  
After the assault, Jake was acutely managed in the UK before returning to Australia to be with his family in April 2021, and started his journey with the Community Rehabilitation Program (CRP) shortly after. The CRP is a goal directed rehabilitation service based at Robina Health Precinct that aims to optimise people's functional capacity, independence, well-being and quality of life.  
Jake's rehabilitation goals included improving his mobility to walk without an aid, more independence with daily living, to work again and to one day return to the UK to be with his five-year-old daughter Ava. 
To achieve his goals, Jake required daily therapy over five months with support from the multi-disciplinary CRP team. His intensive care included weekly Occupational Therapy, Physiotherapy, Speech Pathology, and Clinical Psychology sessions, with support from Dieticians and Social Workers.  
"It's been really hard, but the joy of getting better has helped overcome that. My arm raising is so much better and a lot of physio has focussed on my foot so I can get around more easily," Jake said. 
"There are a lot of little things that have given me more independence but all I really want is to get back to the UK to be with my daughter, hopefully in the next couple of years."  
After receiving acute medical care following his fall from the back of a ute in Nauru, Prem also required intensive rehabilitation. Prem was transported to Gold Coast University Hospital via medivac for ongoing medical care with funding from the Nauruan Government.  
He was discharged as an inpatient August 2021 and dove straight into weekly CRP sessions where he has been engaged with weekly Occupational Therapy, Physio and Speech Pathology, as well as seeing Neuropsychology and Social work.  
Prem's therapy has been targeted at supporting him to reengage in activities that are important to him. His goals included being able to cut food to feed himself, cook again, return to his sports (AFL, bike riding, basketball, swimming), and being able to engage in school when returning to Nauru. 
Prem has attended therapy most days each week since August. He works with the multidisciplinary on strength and coordination, speech and cognition. Prem says the hard work is paying off.  
"I can walk perfectly, my writing is neater, and I can speak better. I can do everything better. I want to go back to my country and go to school again," said Prem. 
"It has been a magnificent experience. I think of the therapists as friends as they are always with me." 
Occupational Therapist Tyler Shutz says letting the patient identify their rehabilitation goals is the key to reaching them.  
"Our patients typically have neurological conditions, traumatic brain or stroke injuries, and we essentially work on goals that are meaningful to them," said Tyler. 
"We spend hours, weeks, and sometimes months with these patients, and seeing them achieve their goals here in the centre or out in the community, is incredibly rewarding.  
"Some will spend time working in the gym to get stronger, but we also practice 'real life' tasks like catching a bus, doing the shopping or going for a bush walk, if that's their goal." 
Prem's dream is to join the police force and is currently preparing for his return to Nauru and school in the coming months.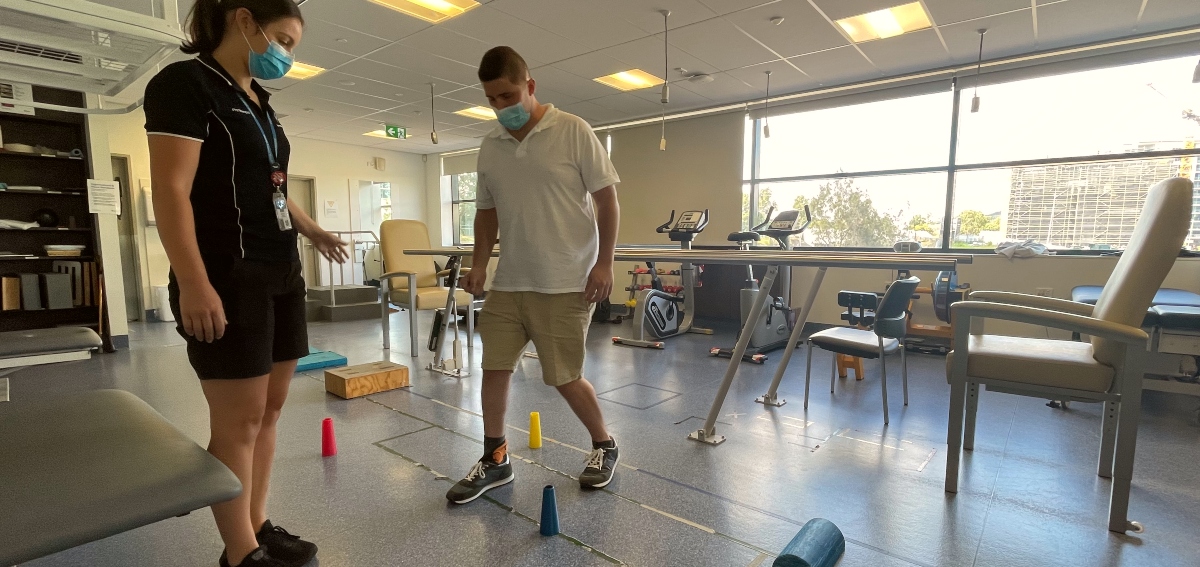 Jake Perry demonstrates his movement improvement by completing an obstacle course in the CRP gym with Physiotherapist Jessica Evans.