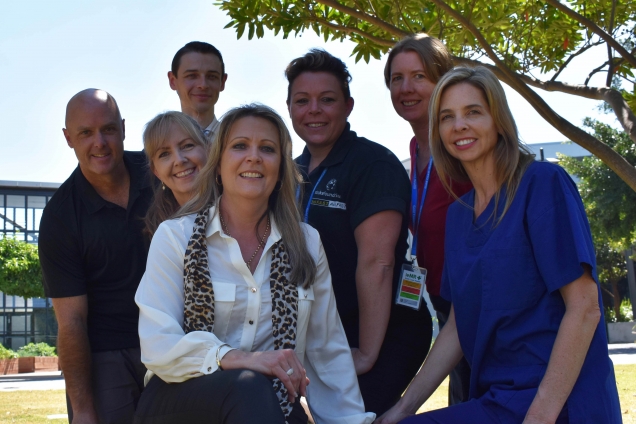 Doctors and nurses from Gold Coast Health's neurology department are using National Stroke Week to educate the community on how to recognise common signs of stroke and minimise their own risk.
Clinical Nurse Consultant Haylee Berrill recommends the F.A.S.T test as an easy way to remember the most common signs of a stroke.
"If you think someone is having a stroke, I'd encourage anyone to apply the F.A.S.T assessment by asking yourself some simple questions," she said.
The signs are:
| | |
| --- | --- |
| Face | Check their face. Has their mouth drooped? |
| Arms | Can they lift both arms? |
| Speech | Is their speech slurred? Do they understand you? |
| Time | Is critical. If you see any of these signs call 000 straight away. |
Find out more by viewing the Stroke Heroes video:
Ms Berrill is among the specialist staff of the stroke unit at Gold Coast University Hospital, focused on delivering the right treatment at the right time to improve outcomes for survivors.
"We see about 750 stroke patients a year and pride ourselves on providing specialist coordinated care through a team of doctors, nurses and allied health professionals," Ms Berrill said.
National Stroke Week from 2-8 September encourages Australians to recognise the signs of stroke and know how to minimise their own risk.
Ms Berrill said lifestyle factors such as hypertension obesity, irregular heartbeat, leading a sedentary lifestyle and smoking had been proven to contribute to the risk of having a stroke.
"We know there are some risk factors, such as older age and family history of stroke, that can't be changed. But we encourage people to consider those risk factors that they can change – smoking, poor diet, consuming large amounts of alcohol and more."
In keeping with the theme of National Stroke Week, which F.A.S.T Heroes, the team of the neurology inpatient at Gold Coast University Hospital (GCUH) wore their favourite superhero t-shirts for a shift.
GCUH was ranked in Newsweek's World's Best Hospitals 2019 as the sixth-best in Australia, with Robina Hospital also making the list at position 32.