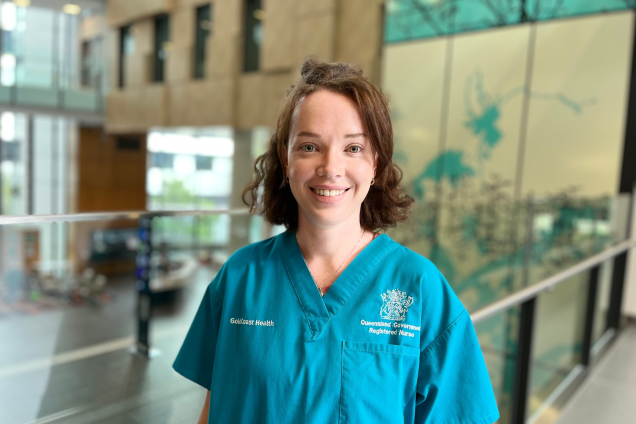 Surreal memories keep flooding back to Gold Coast University Hospital (GCUH) Registered Nurse, Cherry Bennett weeks after her return from a life-changing two-year nursing adventure through remote Australian territories.
While working on Christmas Island, her typical day might have included caring for a detainee as riot guards stood by, before sweeping hundreds of migrating crabs off a roadway with a broom.
Travel has a way of opening your eyes to very different ways of life, and that was certainly the case for Cherry who has returned to GCUH with a new sense of gratitude for the wonderful resources at her fingertips.
After commencing her career at Robina Hospital in 2017, Cherry joined GCUH when the Orthopaedic ward opened two years later.
One year into the COVID-19 pandemic, wanderlust struck.
"I decided to take the plunge, to walk away from the security of a permanent nursing position and try something different," Cherry said.
Her travels took her to Darwin, East Arnhem Land and Alice Springs in the Northern Territory, then Broome, and the Kimberley wilderness region of Western Australia, as well as Christmas Island.
"Sometimes you are the only clinician in town, so it can be very challenging. You must be confident and know when to escalate things," she said.
"In some of these remote areas (when dealing with chronic conditions) it could take a week to get a doctor, who would have to be flown in.
"I'm not sure most people realise just how fortunate we are on the Gold Coast."
Cherry was in awe of the resilience of the people she met in isolated areas and enjoyed the varied cultural interactions.
"You need to meet the Elders and know who's who in the community, and how to work with them," she said.
She found, while some communities were hesitant to connect with medical professionals, most embraced her.
"Some were so trusting. Everyone would know the nurse had arrived and they would all bring out their babies to you."
Returning to the Gold Coast was bittersweet for Cherry.
"You progress a lot as a clinician. I now feel I am more capable of rising to challenges," she said.
"But it can be quite fatiguing and lonely travelling and working in remote centres, so I was so grateful when I was offered a position back where I started.
"Now I look back and I think, 'wow! I actually did that!' I'm so proud."
Cherry now wants to take advantage of the many, diverse opportunities to upskill at Gold Coast University Hospital and she's enjoying working in the same hospital as her sister, Robyn, also a nurse.
"She was in Darwin, and I was here. Then we switched. I went to Darwin, and she came here. So, we are finally working together, which is so nice," Cherry said.
"It is so good to be home and back at GCUH."