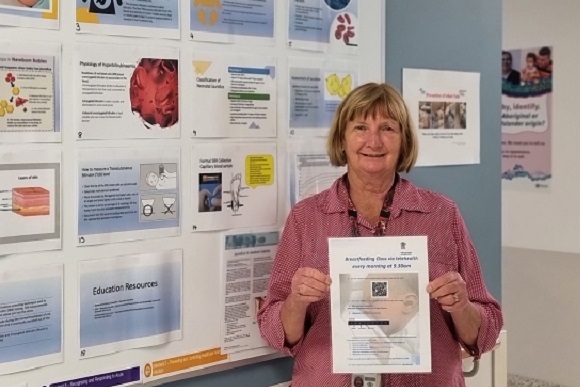 Inpatient mothers can now access Telehealth breastfeeding classes from the comfort of their beds, during their stay in hospital or from home.
The virtual classes are more accessible to mothers (who may be unwell themselves) and their partners, at a time when their baby may be in the special care nursery, or when they just want the privacy and comfort of their own room, according to Lactation Consultant Janelle Saunders (pictured).
"The classes are run by expert Lactation Consultants at 9.30 am daily at the Gold Coast University Hospital Maternity Inpatient Unit. The online format also provides mothers with the option to join the class as often as they need to, using a link," Janelle said.
"During the COVID pandemic, the classes had to be cancelled due to the small classroom space and the need for social distancing, so we decided to move them to an online format.
"We initially didn't know how we would educate our new mothers without being in the classroom, but Clinical Informatics (in particular, Telehealth Support Officer Tanith Dixon) helped us to start using Telehealth, which has enabled parents to continue receiving vital information."
Many of the parents using the classes have expressed their gratitude for the support provided.
"They are saying how thankful they are to re-learn for their second or third child," Janelle said.
"The classes aren't just for first-time mothers, because even if they have breastfed before, feeding a newborn is different and they forget how different it can be."
Anyone needing individual support or advice can be referred to several services. Individual appointments with a Lactation Consultant are available at Nerang, Varsity, Upper Coomera and Helensvale. Call 0476 813 097 for more information.