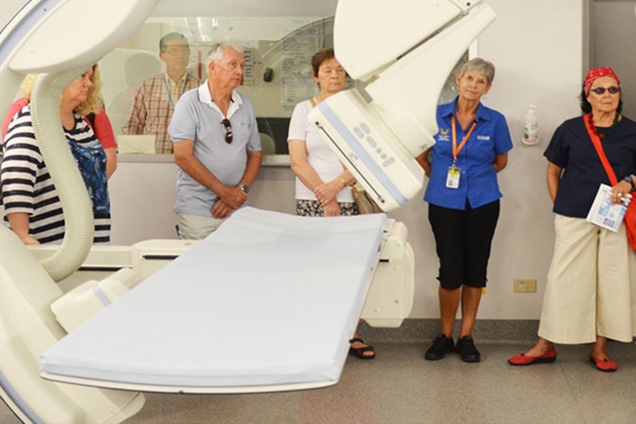 A close-up view of the technology that drives Gold Coast University Hospital was the highlight of Gold Coast Open House tours on 5 November.
Pharmacy, Medical Imaging, Pathology and Food Services opened their doors for guided tours of their facilities by more than 80 people.
Amanda Noonan, Gold Coast Health's Senior Director Communication and Engagement, said visitors were given a rare behind-the-scenes experience.
"We had enthusiastic visitors keen to see the inner workings of our hospital and some of the innovations and cutting-edge technology which helps us deliver efficient and quality health care," Ms Noonan said.
The Medical Imaging tour focused on a walk-through of several examination rooms and behind-the-scenes control rooms including CT scanner room, general x-ray room and mammography room.
The popular Pathology tour covered all three levels of the laboratory with visitors taken through the processing steps of a typical surgical specimen. Technology on show included large automated analysers capable of processing 500 tests per hour and a blood gas analyser capable of giving about 15 different results within 60 seconds.
Visitors to Pharmacy were able to view the pharmacy dispensary, pharmacy robotics technology and aseptic manufacturing facilities all of which dispenses an average 20,000 items per month.
In Food Services, tour participants viewed the busy kitchen where more than1600 patient meals are produced each day with the help of hi-tech mobile heating and cooling systems.
Gold Coast Open House is part of a world-wide series of Open House events which began in London in 1992. The concept has spread to more than 30 cities around the world, including Adelaide, Melbourne and Perth and countries including Spain, USA, Finland, Italy and Greece.