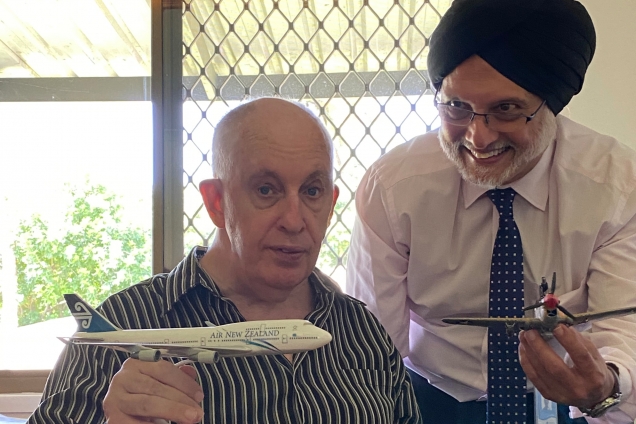 Shane Hewitt (left) has had 10 operations in his life. The first of which was when he was just six-weeks-old.
Shane's most recent surgery was performed by Gold Coast Health Orthopaedic Hand Surgeon Dr Randi Bindra at Gold Coast University Hospital (GCUH) in late 2019.
Shane has a life-long love for aircraft and building model planes is his passion but due to the common auto-immune disease Rheumatoid Arthritis, he gradually lost mobility in his right hand.
Rheumatoid Arthritis is common and usually develops in people aged in their 30s and 40s.
During Shane's hand surgery, Dr Bindra released the muscles that had gone tight, realigned the tendons and put an artificial joint made of silicone in one finger.
Six weeks later, Shane was able to enjoy his favourite hobby again and Dr Bindra made a rare home visit to see Shane's rehabilitation progress and view the vast model plane collection which is Shane's pride and joy.
"For Shane it was very difficult to open his right hand - he had a lot of loss of function," Dr Bindra said.
"He's had quite severe disease and his hand was badly damaged, so it's extremely satisfying to see Shane back doing what he loves most with restored function and mobility. He has had a spectacular result."
On average, Dr Bindra performs a similar procedure once a week.
"If something like this isn't treated you lose function very quickly. You lose your mobility, and you may not be able to walk or use your hands. It really becomes very debilitating," Dr Bindra said.
"There is a genetic component and we will screen for family history. GPs can pick it up from blood tests and x-rays, and then refer the patient to a specialist.
"We have a rheumatology department at GCUH which is great at managing things medically from early on but in some people it's just very hard to control it. Fortunately, because the disease is getting better controlled, we are seeing fewer cases."