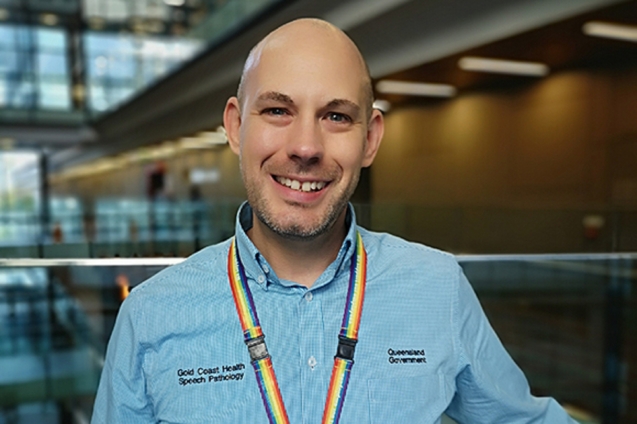 Earlier assessment of patients with voice symptoms by speech pathologists can significantly improve the outcome for patients, according to a clinical research study at Gold Coast Health.
Advanced Speech Pathologist Chris Payten has been researching the effectiveness of the new model of care since 2019, with the latest study using telehealth, due to finish later this year.
"Typically, a new patient will have a mix of diagnostic voice assessments by both Ear, Nose and Throat (ENT) surgeons and speech pathologists. The patient is first seen by an ENT surgeon to identify organic disease using laryngoscopy to view the voice box, with the speech pathologist providing their assessment afterwards," Chris said.
The speech pathology assessment focuses on voice physiology and the functional impact of the voice disorder -- specifically, where organic disease is not the primary cause.
"The new speech pathology-led model of care allows the speech pathologist to initiate assessment of the patient earlier, collecting all the assessment information (including laryngoscopy) before involving the ENTs in the final diagnosis," Chris said.
"Our previous study published in 2019 showed that patients were seen up to 277 days earlier with this new model of care, and that 81 per cent of patients could be treated by the speech pathologist directly (or discharged without the need for ENT treatment after their diagnosis). Seven per cent were highlighted as a priority for ENT assessment, where otherwise they would have waited much longer."
For more information on this research, please email Chris Peyton on christopher.payten@health.qld.gov.au.
Vocal symptoms can include changes to the pitch, volume, quality or the effort required to produce voice. If you have concerns seek a referral to an ENT or a Speech Pathologist via your GP.