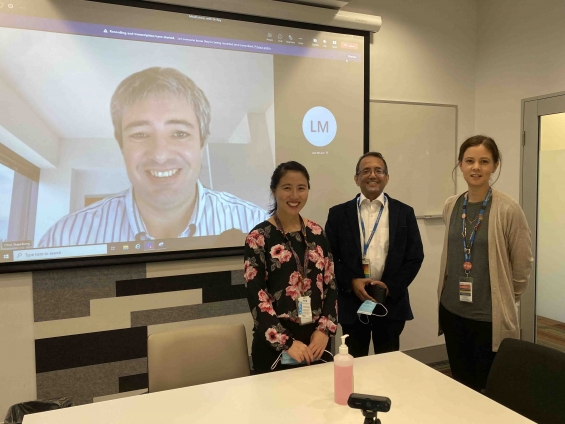 Maintaining a healthy workforce during the COVID-19 pandemic is a challenge for all organisations, but a review by Gold Coast Health researchers has uncovered some initiatives to support health staff during a health crisis.
Dr Grace Branjerdporn, Professor Chris Stapelberg, Dr Candice Bowman and Sean Kenworthy's research showed the importance of good quality and regularly updated information being communicated to staff about the changing circumstances.
The research also showed that it was important that staff are aware of all initiatives available to them within the workplace and externally.
"It is also critical that staff are well-rested with access to meal breaks, respite areas and social support as needed.
"Demands on clinical staff will be high during a crisis, but if clinical staff have capacity to be involved in the development and implementation of support interventions, this could be beneficial," she said.
The research, which involved reviewing 55 international articles about how an organisation can support the wellbeing of health professionals during the pandemic, was published in Frontiers in Psychiatry and follows another paper published by this Gold Coast Health research team in Health Psychology Review, Volume 15 2021.
Dr Branjerdporn said the first article found that health professionals were more vulnerable to increased mental health problems than members of the public in a pandemic.
"This integrative review is the second one in the series about what we can now do about it," Dr Branjerdporn said.
"We're very fortunate - Gold Coast Health is already delivering on some of these recommendations and has a focus on compassion and self-compassion approaches for its 12,000-person workforce."
In addition to regular staff forums and digital updates impacts to hospital operations and frontline care, support programs have been integral throughout the pandemic. These include Always There peer responders, resources through a wellbeing hub, weekly mindfulness sessions and a whole lot more.
Executive Director of Medical Services, Clinical Governance and Research Jeremy Wellwood said the organisation focused on supporting staff, so they can focus on providing quality care.
"It is only through our workforce being engaged, supported and empowered that we will be able to realise our ambition of delivering high quality care to our community every day.
"We are committed to building a culture of success where staff are inspired to do their best work. And I think we have really seen that during the pandemic. The way our workforce has adapted and innovated to continue delivering for the community of the Gold Coast."
Research is also a key component to Gold Coast Health achieving its vision to have the best health outcomes in Australia for patients and staff.
"We provide a focal point for research and support a diverse research program across the Gold Coast. We work in close collaboration with our workforce and external stakeholders, including the universities and national and international institutions," Dr Wellwood said.