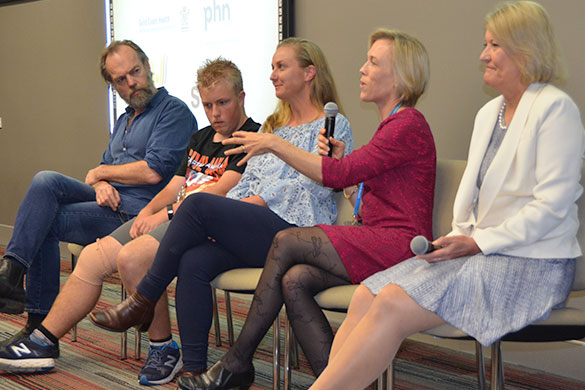 Acclaimed Australian actor Hugo Weaving joined Health Minister Cameron Dick and Gold Coast Health Board Chair Ian Langdon at Gold Coast University Hospital on 19 August to launch a short animated film designed to raise awareness of the issues faced by people with Autism Spectrum Disorder (ASD).
The film, titled Living with Autism – Ky's Story, is presented and narrated by Hugo, who is the uncle of 16-year-old Ky Greenwood. Ky is also the grandson of Ian Langdon.
The film was produced by workplace training experts Sentis in collaboration with several partners, including the Gold Coast Hospital Foundation, Autism Queensland, Griffith University Film School, Hotel Lima and Gold Coast Health.
Mr Dick said the film gave one of the most effective explanations for the condition he had seen.
"In fact, I've asked Education Minister Kate Jones to consider showing it in schools to further promote understanding of ASD," the Minister said.
"This animation is a great example of a public and private partnership that provides real world benefits for the community. It also furthers Queensland Health's goal of improving health literacy, providing clear information that is understood and acted on by consumers to improve patient outcomes."
One of the speakers for the launch was Dr Toni Redman, from Gold Coast Health, who has worked in Child Development Services leading multidisciplinary teams in assessing children with development challenges. She is passionate about early intervention and helping families understand their child as a unique and special individual.
You can watch the film on the Gold Coast Health Facebook page.