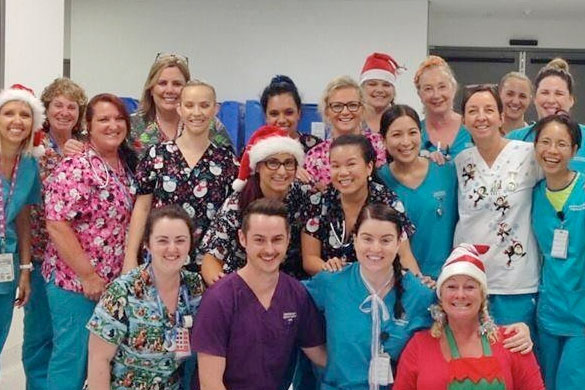 The Christmas and New Year period is traditionally a busy time for Gold Coast Health's Emergency Department.
The latest festive season was no different - 2015 ended on a higher note than usual though with Gold Coast University Hospital's ED recording its biggest day for patient presentations yet.
On 28 December 2015, some 342 patients went through the doors of GCUH, while another 182 were treated at Robina Hospital.
GCUH Emergency Department Director Dr David Green said while the numbers were notably high for both campuses that day, the teams took the demands in their stride.
"We have had quite a few days just below those numbers. If you include the week of Schoolies (in November) where the numbers of activity included the Schoolies tent, we've gone over that before but in terms of patients just presenting primarily here at GCUH, that's the largest number yet," Dr Green said.
Dr Green said the numbers were reflective of GCUH's standing among other emergency departments in the state.
"This is an extremely busy emergency department. It's the busiest in Queensland by a long shot."
"That's based on presentations, acuity, case load and the fact we are the sixth biggest city in Australia with two public hospitals and a number of small private EDs.
"Robina Hospital has had a fair few days over 200. It's important to remember that we have one emergency department with two campuses. The medical staff work in both and we work together very closely."
Dr Green said there was no single reason behind the peak in patients.
"Access to General Practitioners is limited on public holidays so your number of minor patients on that day goes up but your number of procedures also increases. Plus a lot of GPs aren't procedural, so while some clinics do things like treat wounds, look after minor fractures or do X-rays, some don't," he said.
"Most of the patients here are sick, in need of admission, a procedure or require something done acutely and that can mean everything from wound care to trauma assessment, to a major resuscitation.
"This is a growing area, there are a whole lot of demographic at risks with everything from trauma, aged care, paediatrics, drug and alcohol abuse and chronic disease. We see it all here," Dr Green said.
"We all work very closely as a team. Everyone works really hard. One of the advantages of an emergency department is everyone puts in. Every day is tough but rewarding."