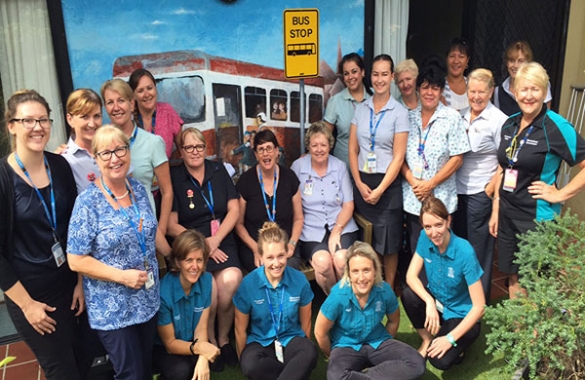 A final emotional chapter has been written in the history of Carrara Health Centre, with past and present staff coming together to celebrate their quality care of thousands of elderly patients at the site.
The centre will close on March 23 as Gold Coast Health is adopting a contemporary model of care for Rehabilitation and Aged Care, which will see existing services at Carrara relocate to the superior facilities of Gold Coast University (GCUH) and Robina hospitals.
As part of a fitting farewell to the facility that has served as the city's main base for rehabilitation and aged care patients since 2008, Gold Coast Health Board Chair Ian Langdon presented staff with a commemorative lapel pin.
Gold Coast Health Diagnostic, Emergency and Medical Services General Manager Kimberley Pierce said Carrara Health Centre and its dedicated staff had played important roles in the rehabilitation and recovery of many elderly Gold Coast patients.
"Many patients and their families will reflect fondly on the doctors, nurses and support staff who have been so committed to caring for the elderly at Carrara," she said.
"Today is not only about reflecting on the past, however, but looking forward to what rehabilitation and aged care will look like into the future.
"By introducing a model of care that has been created in collaboration with our clinicians and patients, Gold Coast Health is perfectly placed to meet the demands of a growing ageing population."
Refurbishments at Robina Hospital are complete, with the first 10 patients from Carrara to relocate on 9 March and the last due to arrive on 23 March.
Carrara Health Centre was opened in 2008 to provide an interim solution for providing subacute care for patients pending completion of the Robina Hospital expansion and commissioning of GCUH.