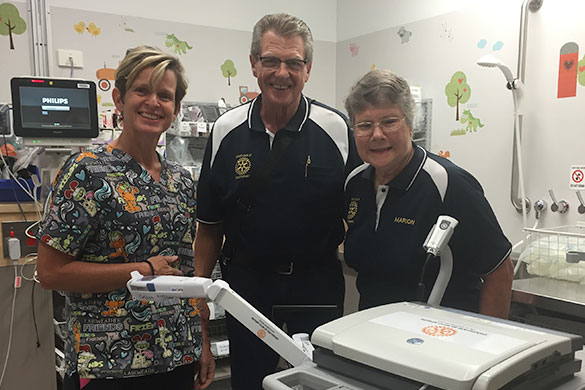 Equipment donations are making a difference to patients at Gold Coast University Hospital.
Southport Rotary Club members got the chance to meet with people who have benefited from the organisation's contribution of about $40,000 to the Gold Coast Hospital Foundation.
The Foundation purchased vital equipment including an ECG and an Accuvein machine for the Emergency Department and a Lightwriter for the hospital's Speech Pathology department.
Christine Beazley was diagnosed with throat cancer, requiring surgery to remove her larynx.
As a result, Christine is unable to speak.
Gold Coast Health Speech Pathologists, including Shelley Gapper, are working with Christine to achieve independent and functional communication.
The Lightwriter is a text-to-talk device.
"This is one way we are able to give patients back their ability to communicate and therefore, be independent," Shelley said.
"We are very fortunate to have a Lightwriter donated by the Southport Rotary Club to cancer services here at GCUH."
Gold Coast Hospital Foundation Kim Sutton said: "Donations help the Foundation deliver on our mission to improve healthcare and relieve distress for patients and their families.
"It's important to acknowledge the contribution of Southport Rotary because equipment purchases such as this will save lives and improve treatment," Kim said.
The Accuvein machine illuminates veins and is often vital when treating small children who can be distressed and in discomfort during procedures.
Emergency Department's Dr Christa Bell said the Southport Rotary Club support through the Gold Coast Hospital Foundation was very welcome.
"To me it's about our community banding together and the children, they are the beneficiaries," she said.