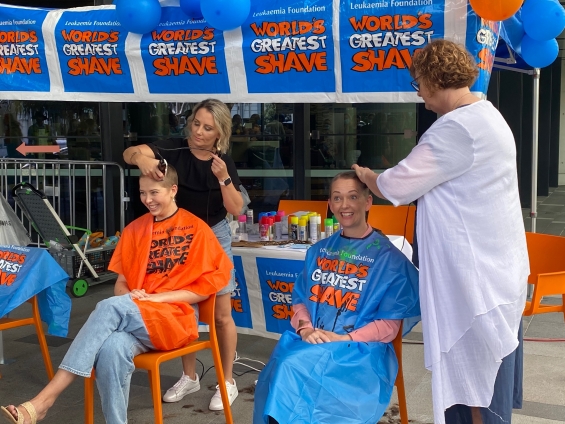 It's a haircut that's been more than a decade in the making and for Gold Coast Health social worker Joanne Hilder, and there was no better to cause to the lose the locks for than the World's Greatest Shave.
"I have been thinking about for 15 years and as the year ticked over, I just felt ready to do it this year," she said.
Joanne joined Gold Coast Health consumer Cate Lawrie at Gold Coast University Hospital Thursday, 17 March, to raise awareness and money for the Leukaemia Foundation.
"I have background working as a welfare officer and social worker. What the Leukaemia Foundation does is offer real and practical support for patients and their families," Joanne said.
"For patients who are already going through so much, having some assistance for accommodation when they are living far away from home makes a real difference.
"For our staff as well, when you are caring for a patient, it makes your job easier knowing there is an organisation there offering that support when they leave the hospital."
Cate first required treatment for a bone marrow condition when she was eight years old. When she was 16, she was diagnosed with a condition which requires fortnightly treatments at GCUH.
It was her own treatment and being surrounded by people who were supported by the Leukaemia Foundation that led to her decision to get the clippers out.
"Hearing Cate's story and seeing all of her loved ones here, that moved my heart," Joanne said.
"For me personally, it just felt great to be able to do something to raise awareness and some money.
"These activities, in the health service also raise morale. It's a nice thing to do as a community and staff members can get together and have a bit of fun and that's also important."