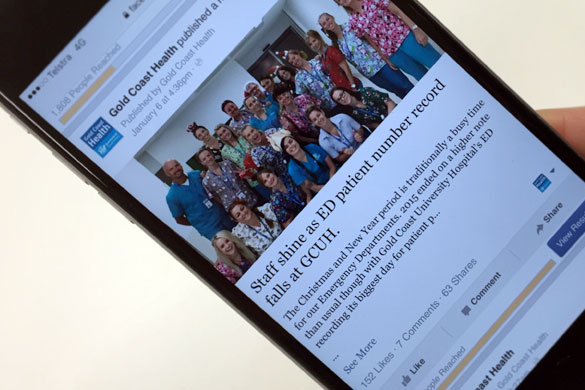 The metrics are in and the analytics clear - Gold Coast Health staff are flourishing under the limelight of social media.
A growing following on the platforms of Facebook, Twitter and increasingly LinkedIn is seeing positive stories about the service reach more people every day.
Social Media Officer Jenn Griffith, charged with driving the development and implementation of Gold Coast Health's social media channels, said it was a challenge full of opportunity.
"As relative newcomers to this space, we are in a fantastic position to define our own unique 'personality' and our staff are already playing a valuable role in shaping our presence," she said.
"There are so many interesting and meaningful stories across the health service and we have the advantage of a genuine online community spirit within our own staff base and a strong appreciation outside the organisation for the services we provide. "Particularly on Facebook, the feedback tells us our staff are rightly proud of what they do and freely support each other, but we are also seeing a lot of support coming from the public, which is just lovely."
Ms Griffith said she enjoyed being able to make her colleagues' achievements and stories more accessible to a wider audience.
"It has been so interesting to watch what resonates with our audience over the past few months," she said. "From construction time-lapse footage to staff profiles and breaking news, we're doing it all and it's pretty exciting.
"The support we've had has been critical to our growth, not only in terms of the online support on our pages but with people coming to us wanting to use the channels to share their stories."