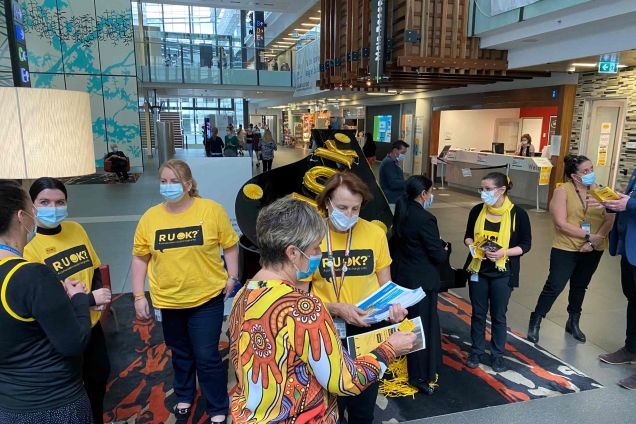 At a time when our ability to bond with each other in person is reduced, every connection counts.
That's the message Gold Coast Health Suicide Prevention Clinical Nurse Consultant Matthew Welch wants people to take away this World Suicide Prevention Day (WSPD) and RUOK? Day.
"It goes without saying this has been a challenging year, and WSPD and RU OK Day are timely opportunities to think about how we can acknowledge each other in a positive way in the current environment," Matt said.
"Wearing a mask impairs the facial cues we use to acknowledge each other, and of course social distancing has brought about major changes to how we interact."
Matt said the impact of making contact, no matter how brief, can't be underestimated.
"It can be life-sustaining sometimes. Even when minor, contact can be enough to really change how someone is feeling," he said.
"Just saying good morning and making eye contact can really help another person to have that sense of belonging. It's great to ask are you ok but a simple hello can go a long way too."
Matthew added that not seeing a way forward is one of the hardest things people can overcome.
"That's why giving people a sense that someone cares is so important," he said.
"If you are struggling on your own and don't have anyone around, you do need to reach out, as hard as it may be. It's ok to accept support and there is hope."
The World Suicide Prevention Day film 'Step Closer' aims to raise awareness and empower viewers towards to collectively work together to prevent suicide.
Services Director for Partnerships and Planning Vicki Green says staff at every level of Gold Coast Health's Mental Health and Specialist Services work collectively to provide leadership and direction for suicide prevention activities across the Gold Coast year-round.
"Much of that work is done in close collaboration with partners in the community," Vicki said.
"Suicide prevention is everybody's business but not everybody's business is the same.
"That why initiatives like the Joint Regional Suicide Prevention Plan and the Suicide Prevention Community Action Plan are so important in helping to get all stakeholders in the community thinking about suicide prevention."
Crisis support care is available on the Lifeline hotline 13 11 14, and Gold Coast Health's Acute Care 24 hotline 1300 64 2255 24 hours a day, seven days a week.