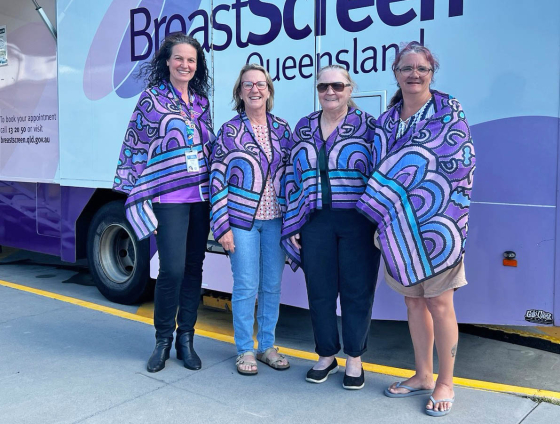 A partnership between Aboriginal and Torres Strait Islander Health Service - Gold Coast Health, BreastScreen Queensland Gold Coast Service, and Kalwun Development Corporation has introduced the Sistas Shawl project to Queensland.
The Sistas Shawl project was introduced by the BreastScreen Victoria's "Beautiful Shawl Project". First Nations Women accessing the service were gifted a beautiful cultural shawl, worn to feel safe and empowered during their breast screening experience.
Worn or held by First Nation Women during their breast screen test, the modesty shawl is proving to provide a safe and empowering screening experience. Since the project launched in Queensland, Townsville and Metro North health Services have reported an increase in screening by First Nations women.
The Sistas Shawl features 'A Women's Dreaming' artwork by Aboriginal artist Sharon McAvoy. It is a powerful story of "Women taking care of Women" and highlights the importance of breast screening and sharing this message to all communities to increase awareness of early detection.
The GCHHS First Nations Health Equity Strategy and Local Area Needs Assessment (LANA) identified a key health concern in the region, with increasing rates of cancer amongst First Nations peoples.
"This project not only sends a beautiful message to our First Nations Women but also provides a memorable incentive to increase awareness about early detection" said Paula Nihot, Program Manager, First Nations Health Equity at Gold Coast Health.
"The Sistas Shawl will provide comfort and modesty for our women accessing BreastScreen Queensland Gold Coast Service. We have created a range of collateral to promote the free service and are working with the Community to include images of real people in recognisable settings throughout our content," Paula said.
Breast Screen Queensland Gold Coast staff are supporting the initiative by wearing a polo shirt also featuring Sharon McAvoy's artwork to create a more welcoming environment for First Nations women attending the service.
"We are excited to be working with the Aboriginal and Torres Strait Islander Health Service, Kalwun and Yallburra Community Service on the 'Sistas Shawl Project' to support more women to use our free breast screening service" said Janine Seabrook, A/Service and Data Manager BreastScreen Queensland Gold Coast.
The official project launch is scheduled for 27th of October, during Breast Cancer Awareness Month, however the Sistas Shawl will be available from August with group bookings which are supported by Kalwun.