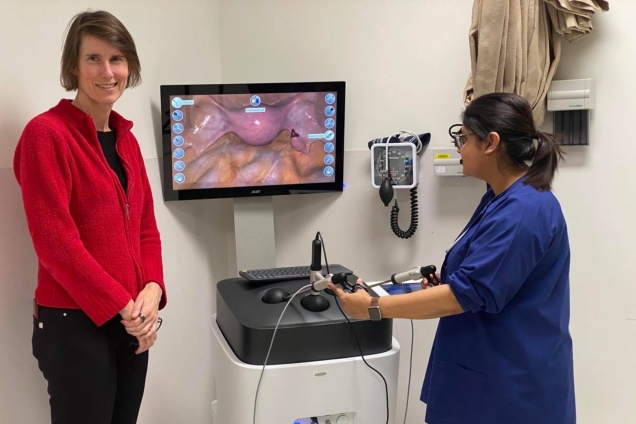 A Gold Coast Health virtual reality program is finessing the laparoscopic skills of tomorrow's surgeons before they operate on patients, improving safety and saving hundreds theatre time hours in the process.
The $240,000 project has been funded through 'The Improvers' staff innovation program. The training will be offered to gynaecology, general surgical, urology and paediatric surgery trainees.
The centrepiece of the initiative is a 'LapSIM' virtual reality trainer that simulates several surgery scenarios in real-time and monitors trainees' performance as they carry out surgical tasks.
Obstetrician Gynecologist Dr Belinda Lowe said the program had been engineered to provide trainees with advanced education, improving outcomes for more than 3,000 patients who undergo laparoscopic surgery each year.
"This technology supports us in educating the growing number of surgical trainees in our hospitals and it is a fantastic tool for teaching a procedure that is difficult to learn," Dr Lowe said.
Dr Lowe added that not only were trainees more equipped when they step into the theatre room as a result but they are more efficient when operating because their skills are more perfected.
"Based on our modelling, this will equate to a reduction of about 10 minutes per procedure and with theatres running at a cost of $2,000 per hour, that's a significant saving each year," she said.
"The improved theatre time efficiency and cost savings are anticipated to allow for at least an additional 250 procedures to be performed annually so it's pretty exciting that we have this."
Gynaecology surgical trainee Tarana Lucky said the simulated training was a confidence booster.
"The haptics and 3D setting give you a really good 'feel' for the surgery," Tarana said.
Each month Gold Coast Health's Simulation Service delivers students and staff up to 500 participant hours of training ranging from emergency care and trauma drills, to practicing patient care while using PPE, and more recently COVID-19 safe patient procedures.