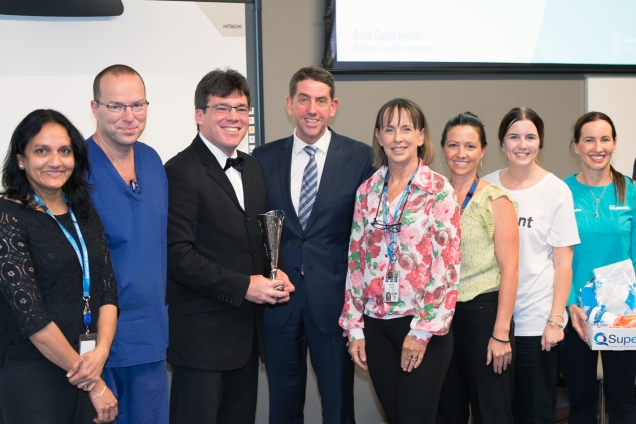 Gold Coast Health staff have received more than $200,000 to fund innovative ideas designed to improve how the health service delivers patient care.
In its fourth year, The Improvers event has awarded more than $1million to cut through red tape and bring innovative projects to life.
Gold Coast Health Chief Executive Ron Calvert congratulated the winners.
"Every year we've held the Improvers, I've always been impressed by the ideas our teams come up with to inspire change at Gold Coast Health," Mr Calvert said.
"As the largest employer on the Coast, it's important to keep staff engaged and this is one way we can draw on their frontline expertise to make continual improvements for our patients."
Minister for Health and Ambulance Services Cameron Dick led the judging panel of clinicians, executives and community representatives to determine which ideas will make the biggest difference to quality patient care on the Gold Coast.
"From beach wheelchairs for palliative care patients, to the creation of a 'LIFE space' that helps build confidence for rehabilitation patients – the staff-generated ideas I've seen over the past few years have genuinely improved the experience of Gold Coast Health patients," Minister Dick said.
"This year's ideas could once again make a real difference for end of life patients, those preparing for surgery and also mental health, occupational therapy and rehabilitation patients."
This year, 13 finalists were selected from more than 150 entries for The Improvers and they will compete for investment funds in four categories – projects up to $10,000, projects up to $25,000, projects up to $50,000 and projects up to $100,000.
Minister Dick was joined on the judging panel by Dr Will Butcher (Gold Coast Health Vascular Surgery Staff Specialist), Scott Thompson (Gold Coast Bulletin Editor), Colette McCool (Gold Coast Health Board member) and Michael Walsh (Queensland Health Director-General).
About 200 Gold Coast Health employees attended the event at GCUH, which was live-streamed to staff at Robina Hospital and community facilities.
ABC Gold Coast Mornings presenter Nicole Dyer hosted the awards.
The Improvers 2017 winners:
Category 1 – project up to $100,000
Carl de Wet (GP Liaison Unit): Empower patients waiting for elective surgery to be proactive during their waiting time through the Get Set for Surgery program
Category 2 – up to $50,000
Penny Stabler (Clinical Council): Install digital information screens in key high-traffic areas at GCUH
Category 3 – up to $25,000
Zane Hopper (Nutrition and Food Services): Purchase a vitamising machine to allow pureed food to be moulded into more appealing food that patients are happier to eat
Category 4 – up to $10,000 (sponsored by the Gold Coast Hospital Foundation)
Serena Alves-Stein (Occupational Therapy): Purchase alternative nurse call bells for patients with limited, or no, arma dn hand function, for example, a bell triggered by breath
People's Choice
Matt Ernst and Ash Farr (Speech Pathology): Purchase a range of alternative communication devices, for example text to speech apps, to loan out to patients who are unable to communicate basic needs - $25,000
Other projects which received special Minister funding were:
Russell Plumbridge-Jones (Occupational Therapy/Palliative Care): Buy a queen-size cuddle bed for comfort for end-of-life patients - $10,000
Tamirin Darch, Helen Mason and Madeline Bridgland (Quality, Safety and Corporate Governance): Encapsulate the annual event Artbeat into a book that could be sold to support artistic programs for our mental health patients - $25,000
Chief Executive Ron Calvert decided to fund an additional project:
Rebecca Watson (Electroconvulsive Therapy): Produce a video to reduce the stigma of ECT Therapy ($50,000)
Gold Coast Hospital Foundation agreed to fund an additional Category 4 project:
Elizabeth Soleil-Moudiky-Joh (Rehabilitation): Change the colour of toilet seats to reduce falls risk and increase independence of the elderly