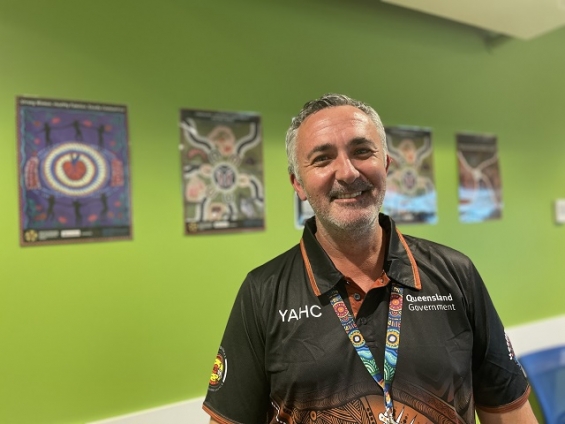 Passionate sexual health nurse Bernard Longbottom has taken his expertise to the remote community of Doomadgee to help reduce the prevalence of sexually transmitted infections among young Aboriginal and Torres Strait Islander people.
He was a member of a Townsville Public Health Unit multidisciplinary contingent who travelled to Doomadgee, about 400kms north of Mt Isa, for two weeks screening more than 100 young people aged 15-29.
STIs disproportionately affect Aboriginal and Torres Strait Islander people and the North Queensland Aboriginal and Torres Strait Islander STI action plan 2016−2021 aims to reduce the number of people with syphilis, chlamydia and gonorrhoea.
Bernard's clinical experience of running similar community clinics in Palm Island and Central Australia and his ability to work in a culturally sensitive manner meant he was a valuable team member.
"We held a confidential screening clinic on the outskirts of the community at the PCYC, the location carefully chosen so that people from the community felt comfortable to come to. In such a small community, there can be elements of shame to attend the hospital or Aboriginal Medical Service for sexual health screening because a relative or someone they know may work there.
Bernard, a Clinical Nurse, has returned to Southport Health Precinct where he is part of the sexual health team delivering STI testing and treatment and HIV management to the Gold Coast community.
North Queensland STI Action Plan Program Director Elisha McGuiness said the collaborative approach by hospitals and health services across the state was a win-win for workers and the Doomadgee community.
"I see this as a great opportunity to strengthen partnerships across health services, provide opportunities for cross pollination of work approaches and ideas and to simply create professional opportunities to grow, explore and refresh," she said.