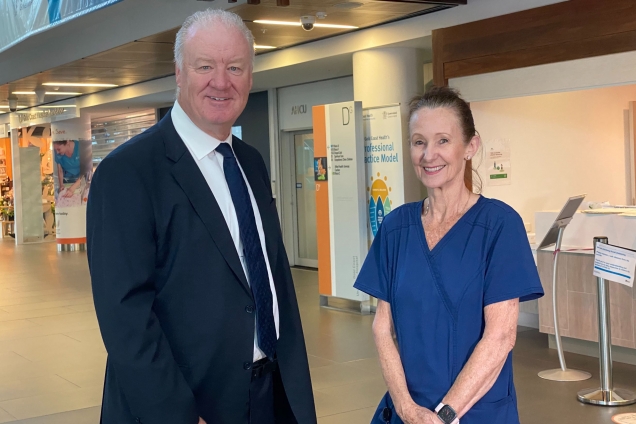 The move from the old Gold Coast Hospital to the Gold Coast University Hospital was considered the biggest planned hospital move in Australia's history at the time.
219 patients were transferred by ambulances, cars and mini-buses as part of the massive two-day shift to the $1.76 billion, 750-bed facility when it first opened its doors on 28 September 2013.
Seven years later and the hospital has helped bring almost 35,000 babies into the world, delivered some 106,000 elective surgeries and has seen more than 752,000 emergency department presentations.
Chief Executive Ron Calvert said the demand for the high quality, tertiary-level services available at GCUH has rarely abated in the past seven years.
"We moved and we grew. We were able to cope with the huge growth in population in the last seven years but we also managed to cope with the 2018 Commonwealth Games," Mr Calvert said.
"The range of tertiary services that have been added here in the last seven years is immense. We've now got Maternal Foetal Medicine, Cardiac Surgery, Neonatal Intensive Care and stems cells for cancer. The list goes on and that is what's required for a growing population.
"As well as that, we had a major IT project roll out in 2019 when rolled out the electronic medical record (ieMR) system across the board and now of course, we're responding to COVID-19."
Mr Calvert said like the rest of Gold Coast Hospital and Health Service, GCUH is coping well with the demands of the COVID-19 pandemic.
"Not only was GCUH the first hospital in Queensland to deal with COVID patients but the clinical response to that was exemplary," Mr Calvert said.
"GCUH is nearly triple the size of the old Gold Coast Hospital. It's a fantastic facility but the people who run it are doing a fantastic job and we've got a lot to thank them for."
Emergency Department Nurse Practitioner Jo Timms was there for the move from the old hospital and says the level of medicine at GCUH now is at a whole new level.
"There were many months of planning which really paid off on the day and it was full on from the moment we opened the front doors of the ED that Saturday," Jo said.
"We are a huge department now and we have several components within it, so we have separate areas for specific patients' needs for triage, resuscitation, short stage acute care, minors and children's emergency."
almost 35,000 births

565,000 inpatient admissions

some 507,000 urgent emergency department presentations (Categories 1 – 3)

almost 2,000 cardiac surgeries since the service opened in early 2014

achieved Level 1 trauma service status (2019)

GCUH was the only hospital in Queensland to meet the criteria for a comprehensive stroke service (2020)