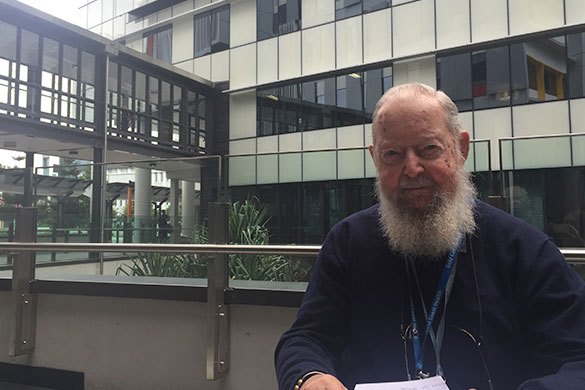 Gold Coast Health is renowned for the diversity of its workforce and Seniors Week 2016 (13-21 August) presented the perfect opportunity to celebrate our most senior staff member.
It's not just his job position that makes Derek Moor unique. At 81, Derek is a wonderful wealth of historical information and his workmanship can be seen inside and outside many of the facilities and buildings that have changed along with the growing public health needs of our city.
Derek has been a part of architecture projects right across the Gold Coast from Helensvale to Palm Beach Community Health, the Southport Health Precinct and of course the old Gold Coast Hospital, just to name a few.
Joining Gold Coast Health in 1992, Derek had a hand in a huge variety of projects - from designing flammable liquids storage facilities to building car parks, and designing fit outs for renal and pathology units. There has been no such thing as a 'typical day' in his career.
"Back in the old days I collected all the drawings and produced by hand (before CAD) a site plan for the old Southport hospital," Derek said.
"I was engaged to design and produce a breast screening clinic within the old hospital. They grew out of that of course and it moved to 60 High Street and other satellites.
"One of the interesting things about that fit out was the very large compactus, full of the old x-ray films that weighed tonnes, so we had to reinforce the floor in the existing building."
In reflecting on the changes he had seen over his career, Derek said watching some of the things he had helped build make way for new buildings came with the territory of his professional field.
"I've been around for a while. I've seen a lot of changes and a lot of people come and go. I have developed a knowledge and interest in door knobs and keys, and have been nicknamed 'Keeper of the Keys'," he said.
"It's progress. One accepts things change. When I was in my early 20s, one of the first projects I worked on was the Tennyson power station, colouring the drawings before they went out to tender. Tennyson power station is long gone now, as is the old Southport Hospital and all my bits and pieces."
"I hope I can continue to be a resource for the GCHHS that has developed and expanded over my association with the organisation."