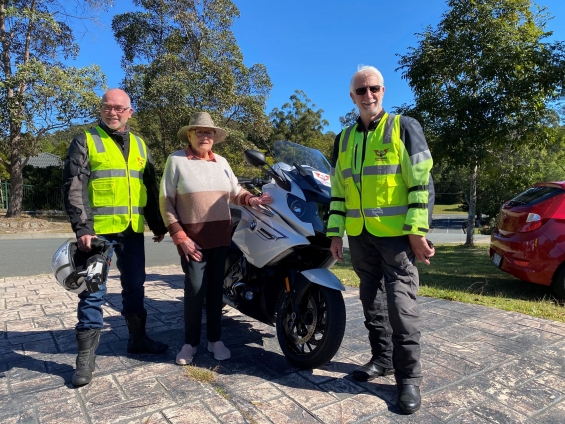 A new partnership between Gold Coast Health and a volunteer organisation is being described as Uber Eats with a twist.
BloodBikes Australia is an organisation that delivers blood and blood products directly to patients' homes, saving them trips to the hospital.
Motorbike riders, trained in handling blood products, pick up the products from Gold Coast University Hospital for consumers who are able to administer their Subcutaneous Immunoglobulin (SCIg) in their homes.
For consumers who are unwell, immuno-compromised or already spend a great deal of time receiving treatment, one less trip to the hospital can make a big difference.
Gold Coast Health Blood Transfusion Clinical Nurse Consultant Fiona Clark said the service had been well received by patients.
"Our SCIg patients are lining up for this new service which has already reduced their time and travel costs associated with picking up their blood products," she said.
"We've had patients give feedback saying the generosity of volunteers has changed their lives. For people having medical treatment, it's the little things that do make a difference and we're hearing from consumers that this service is one of those things."
Gold Coast Health consumer Colleen Scanlon requires immunoglobulin infusions weekly due to a rare disorder.
"I have no resistance to any infection, so if something attacks me, I can't fight back," she said.
The 73-year-old administers her transfusions at home. She previously had to travel to the hospital to pick up the products required for her treatment.
"I used to spend so much time hospital, and since I have been on this treatment at home, I don't have to be at the hospital. I can do it here at home," she said.
"It's a 35-minute trip, then I have to park. Then I have to pick it up and carry it and it can be quite a load with all of the consumables and get quite heavy. Then I have to get back to the car and drive home and I am exhausted.
"These volunteers are just so selfless to do this."
Bloodbikes volunteer John Eacott said some members of the organisation even used their lunchbreaks at work to deliver products.
"We're saving patients from coming to the hospital from near and far," he said.
"And we're happy with any excuse to get on the bike."