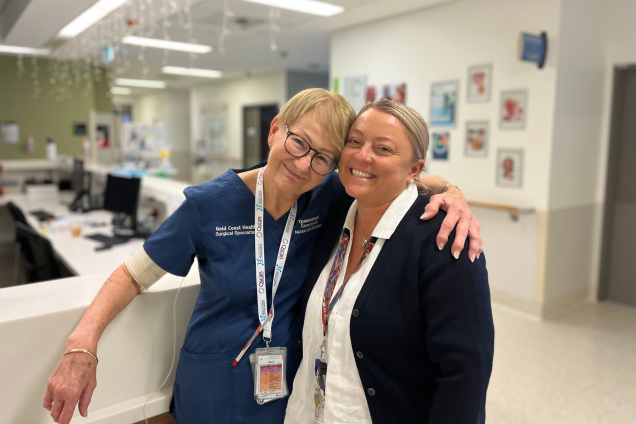 During her 52-year nursing career, Gold Coast University Hospital (GCUH) Nursing Unit Manager, Margaret Connolly stayed true to a promise she made to herself, right up until her retirement this week, aged 70.
"I vowed that I would never treat my staff the way I had been treated as a trainee nurse," Margaret said.
As Margaret recalls the dire conditions endured by young nurses in the early 1970s, she wonders how she survived.
"It was a very difficult time in nursing then. They expected you to do the work, but not to be involved in the caring," she said.
Back then, there was no place for emotion in the wards, often run by regimental former servicewomen.
"I'd come home to Cessnock (NSW) from Sydney on the train and begged my mother not to make me return," she said.
But Margaret's mother – also a nurse – saw a strength in her that Margaret couldn't see in herself.
It was a trait she would inherit from her inspirational mum of seven children.
"Life was difficult for her, however she never faltered," Margaret said proudly.
In 1981, a light switched on inside Margaret when she began working in a surgical ward in Cairns.
"I found my forte," she said, "and it was the best thing ever."
"When you see a patient through their journey, it's almost like you go on that journey yourself."
Having found her passion, Margaret joined the surgical ward team at Gold Coast Health in 1986, at the old Southport building, and was quickly promoted to Nursing Unit Manager.
"I treat my staff the way I want to be treated, as a human being," she said.
"I get to know my staff. I ask them what they would like to do. I challenge them to go outside their own comfort zone and to grow."
Under Margaret's guidance, staff supported each other through the huge move to Gold Coast University Hospital (GCUH) in 2013.
"We had gone from a six-bed environment to a single room environment, without an increase in staff, so we had a big footprint to travel in the nurse's day," she said.
It was then that a personal challenge – her partner Peter's cancer battle – would motivate Margaret's greatest career achievement.
"When we came to GCUH we didn't see a lot of major head and neck cancer surgery," she said.
"Peter was operated on in my ward, but there was no radiation here. That was a very lonely journey for both of us.
"I had always wanted to get a Nurse Navigator for Head and Neck, and that's been achieved. That is a fabulous service for those patients.
"The growth in this hospital is phenomenal. There are amazing things being achieved in this facility."
Margaret is filled with immense joy as she reflects on the skills growth among her staff.
"I can see potential in people that they can't see, and that has given me so much satisfaction in my job," she said.
"You don't know what you're capable of until you try. I learned that from my mum."
There will be many tears as Margaret's team farewells their 'second mum'.
"This becomes your family. You're dealing with life and death, and it's those shared experiences that make the team so coherent," she said.
Peter has been waiting patiently for Margaret, and their beloved ragdoll cat Snowflake, to join him aboard their retirement cruiser, 'Nalani' – meaning 'serenity of the skies'.
"We'll just head north and see how far we get," she said.
For the first time in 52 years, Margaret will gaze into that expansive sky, take a deep breath and look back on all that she has achieved.
"There were times when I thought, I can't do this," she said, as tears filled her eyes. "I'm extremely proud of myself."