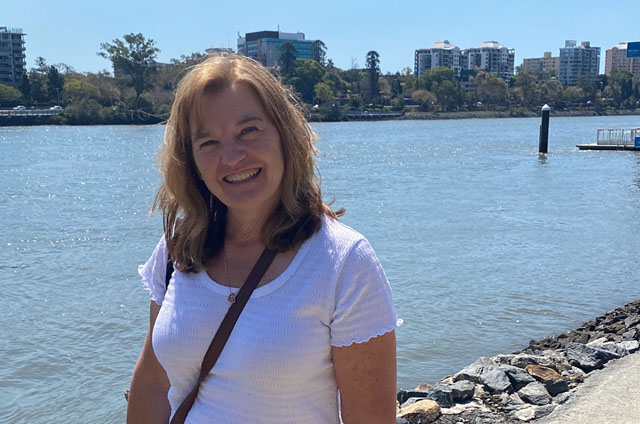 Mother of two daughters in their twenties, Jenny Bull, who celebrates 33 years of marriage, is extremely grateful for routine screening that helped save her life.
As a Registered Nurse of 40 years, Jenny knows the value of early detection and helps others though her part-time work with colonoscopies. She maintains her own wellbeing by regularly accessing health checks including for bowel, breast, cervical and skin cancer.
Diligently attending breast screening every two years, Jenny recently took advantage of the BreastScreen Queensland mobile clinic at Pimpama, while it was closer to home. She feels "very lucky" and grateful she had her breast screen when she did, after her latest routine screening mammogram led to a diagnosis of stage 2 invasive breast cancer.
Jenny recalls she was surprised to receive a phone call asking her to return for more tests, which included a 3D mammogram, ultrasound, and biopsy of a small area of concern. Jenny and her husband were shocked to receive news of the diagnosis when they returned the next week to get the results. Jenny urges others to make time for regular health checks.
"If I can encourage one person to go and have their mammogram and potentially save their life by sharing my journey, it's worth it," Jenny said.
"It's also my husband's, family, and friends' journey and we owe it to our loved ones to be diligent with screening. It's senseless to put off something that can save our lives."
"Cancer sucks, no one wants that diagnosis, but myself and my family feel nothing but gratitude for the screening program that has definitely saved my life."
"The care I received from the team at BreastScreen Gold Coast was excellent," she said.
"I've been told by numerous specialists since my diagnosis that I would never have felt a lump, as my cancer was quite deep, and if I hadn't had my mammogram right on schedule it potentially would have spread and been detected too late."
Jenny's subsequent care has included a lumpectomy and removal of some lymph nodes. She was relieved to be told her nodes are all clear, with no signs the cancer has spread. Extra procedures did pick up a second unrelated tiny breast cancer at a very early stage. Jenny will undergo radiotherapy while she continues to work and enjoy catching up with friends, and her passions like cooking and her extensive native garden created for wildlife.
BreastScreen Queensland offers free breast screening across the state for women aged 40 plus who haven't noticed any changes in their breasts. A breast screen is most effective for women aged 50 to 74. For your nearest clinic or to book an appointment call 13 20 50 or visit breastscreen.qld.gov.au