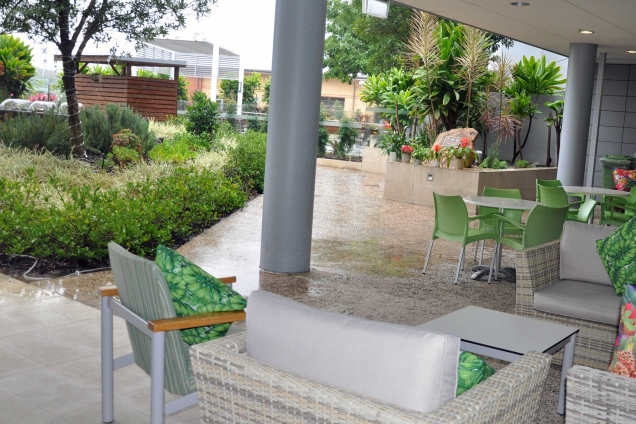 Holistic care is delivering memorable results for terminally ill patients and their families who spend time in the Robina Hospital Palliative Care Unit.
Palliative Care Nurse Unit Manager Maureen Tapfield and Advanced Recreational Officer Jane McNamara took 91.7FM ABC Gold Coast inside the unit which features an outdoor garden space, with a fountain and memorial, and is where 'scone therapy' is delivered.
"The water feature was created because patients and their families often request to hear the sound of water," Ms Tapfield told 91.7FM.
"So some of the rooms were then able to face the garden so that we can actually open the doors and families can move in and out because often during this time their only focus has been on the actual extension of patient disease of dealing with complex symptom management.
"There haven't been many opportunities to laugh, to cry, to enjoy a sunset, to create that morning time when it's quiet and peaceful."
Scones, cooked regularly on an outdoor BBQ by Ms McNamara, have become an activity that brings patients and families together.
"We've been able to do different events that have created some amazing memories… we have a lot of laughter but we also have tears, obviously, as patients and families move in and out of our lives," Ms Tapfield said.
For more information on Palliative Care services at Gold Coast Health visit www.goldcoast.health.qld.gov.au/our-services/palliative-care
Listen to the full interview on 91.7FM.