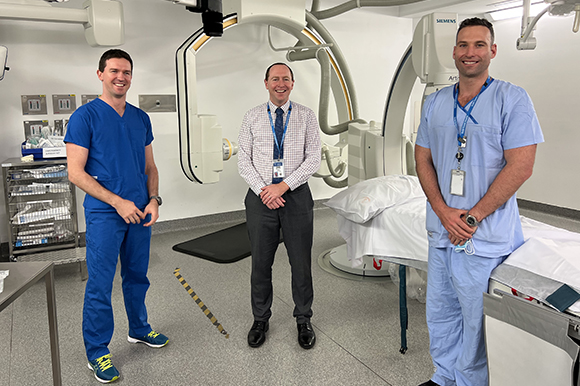 Remote Patient Monitoring of cardiac patients is helping clinicians at Gold Coast Health to manage their patient's health conditions proactively and call patients in for treatment if issues are detected.
Director Cardiac Investigations Unit Luke Shanahan said his team managed multiple patients with cardiac implantable electronic devices, such as loop recorders, pacemakers, defibrillators and cardiac synchronisation devices.
"Essentially, what we have the ability to do is treat patients in the home without them having to come into hospital," Luke said.
"We can predict when there's going to be problems, using devices before the patient actually ends up in the Emergency Department or we have to admit them.
"The device data is transferred via the internet to a server and from there we can get the diagnostic information out of the device. It's all the information that we need to make an informed decision about the patient's care."
Up to 500 patients are expected to be implanted with remote monitoring compatible devices this year. While the technology isn't new, the introduction of remote monitoring model of care is, and it's already saving lives.
Luke said their clinic recently received a transmission for a patient with an implantable cardiac monitor device, which showed an eight-second pause in heart rhythm.
"We immediately called to check on the patient and uncovered that the patient had collapsed but didn't think it was bad enough to come into hospital until they were due to see us in September.
"With the Remote Patient Monitoring, we were able to bring them in much sooner and successfully implant a pacemaker to fix the problem before they suffered any further events," Luke said.
"Now the patient can get back to day-to-day life without fear of passing out at an inopportune time."