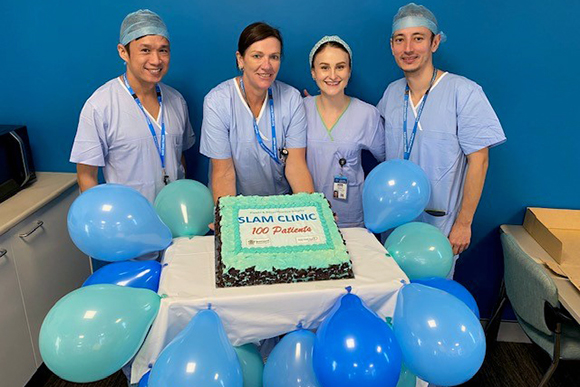 A new same day 'see and treat' service is delivering slam dunk results for patients with non-melanoma skin cancers.
The Skin Lesion Assessment and Management (SLAM) Clinic has treated more than 100 patients since the model of care launched in March 2021.
A response to the growing demand for patients requiring surgical treatment for non-melanoma skin cancers, the clinic is reducing the wait time for patients while improving access and patient experience.
Plastics and Reconstructive Surgery Clinical Nurse Mel Wain said patients attend a Specialist Outpatient Appointment and receive surgical treatment on the same day at the same facility – Varsity Lakes Day Hospital.
"By reducing the waiting time for patients, it can sometime also reduce the complexity of the surgery required as the skin lesions are not advancing in size while patients wait for surgery," Mel said.
The SLAM team consists of a Specialist Consultant in plastic and reconstructive surgery, up to two plastics Registrars, one Resident doctor and a Clinical Nurse who completes suitability assessments on patients prior to booking.
"We have four Outpatient Clinic sessions across the month and use existing Plastic Surgery operating theatre sessions," Mel said.
Fred Tickelpenny attended the SLAM Clinic as its 100th Patient.
"I found the admission staff very welcoming and as I was very apprehensive, they very quickly put my mind at ease," he said.
"The staff in general were very friendly and informative about my procedure which was very reassuring.
"The surgeons explained what the procedure for my skin cancer entailed and I felt safe and comfortable.
"The aftercare was excellent and carried out in a very professional way. I was very impressed with the follow up phone call and appointment advice, the next day.
"I would definitely recommend the SLAM Clinic as one of the best Queensland Health services I have ever seen."