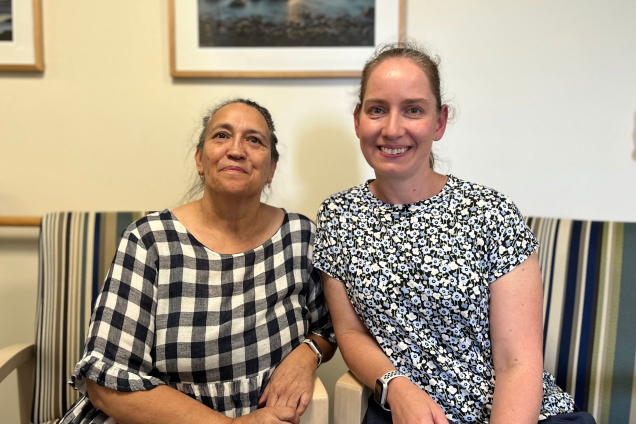 Sally is incredibly brave.
She finally pushed aside her fear and sense of embarrassment to seek help for the excruciating pain she endured for ten years, since undergoing pelvic mesh surgery for an organ prolapse.
Sally (pictured left) now feels like a new woman, and it's thanks to the caring team at Queensland Pelvic Mesh Service (QPMS), including her physiotherapist, Bridget (right).
QPMS offers a holistic approach to treating and supporting women who have experienced complications from transvaginal pelvic mesh surgical devices.
Since the service began in 2019, the team of medical, nursing and allied health specialists has cared for close to 1300 women.
Sally is sharing her experience with pelvic pain, and urinary incontinence, in the hope of encouraging other women to seek help.
She said a mix of stoicism, and a reluctance to discuss her symptoms with male doctors, had previously stopped her from seeking medical advice.
"It impacted my life greatly. Being a woman, we tend to push things aside, put others first, and pretend that we'll get over it," she said.
Every patient's journey at QPMS is different, and while Sally recently chose to have the mesh removed, many – in fact, most – patients do not opt for removal surgery.
"My wonderful surgeon at QPMS made me feel comfortable that I was doing the right thing for me," she said.
Sally lives at Dalby, so has access to patient travel subsidies to attend the Varsity Lakes clinic.
She still has quite a road to recovery ahead but, as Sally said, with the ongoing support of the amazing QPMS team, "things are looking good."
Her advice to other women who may be reluctant to seek help for pelvic pain - "Put yourself first," she said. "It may feel embarrassing to start with, but you need to remember these wonderful women are doing something good for you."
Find out more at Queensland Pelvic Mesh Service | Health and wellbeing | Queensland Government (www.qld.gov.au)